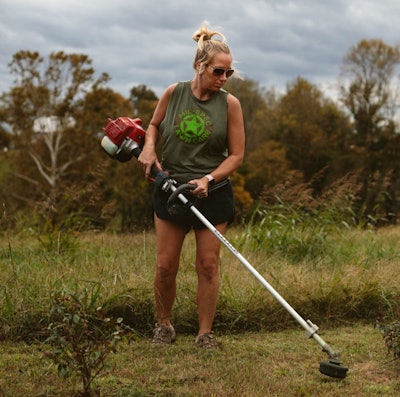 March 8th marked International Women's Day and the whole month is dedicated to women's history, so we decided to talk to some of the women-owned landscaping companies that are carving out their place in the male-dominated green industry.
According to LawnStarter, male-owned businesses make up 82.8 percent of all landscaping businesses, but this isn't stopping women like Ramona Mullins, co-owner of Mullins Lawn Enforcement and Kristy Boase, co-owner of MIL-SPEC Lawn Care. Both Mullins and Boase are Jobber customers as well.
Mullins says she got into the landscaping industry on accident. Her husband was deploying overseas, and they needed a new mower for their personal yard.
"Instead of buying a small push mower, I decided to purchase a large commercial mower and trailer and learned how to use it in the Home Depot parking lot," she says. "The day before my husband deployed, he taught me how to edge and weed eat. Once he left, I put an advertisement in the paper and it really grew from there. One of my first customers was an elderly lady that I received as a referral from my hairdresser that taught me everything about gardening."
Mullins has been in the business since 2010 now. As for Boase, she's been in the industry for about four years. She says that after her husband retired from the military, they wanted to do something aside from corporate jobs.
"We are both fueled by challenges and knew we wanted to be outside and stay active," Boase says. "This inspired us to build a premier landscape service. Our mission was to be the Nordstrom's of landscaping – a little Gucci and a little Levi's."
She says part of the reason why she decided to launch her own company was from dealing with corporate companies that weren't listening to what their clients were telling them.
"When I started MIL-SPEC, I wanted to offer a more personal experience for the end user," Boase says. "The clients we attract don't want someone to plant a tree for them; they want a company to bring them into the experience and be a part of the process. Our goal is to make our customers feel like they are part of our family."
Mullins had previously run a children's before- and after-care program out of her house, but when her family moved to a new house, it wasn't allowed due to HOA restrictions.
"Since everything I've always done has to do with my kids, I knew I wanted a business that allowed me to be a full-time mom outside of their school hours," Mullins says. "The biggest thing for me was always being able to be there for my kids, especially with my husband being deployed."
For Boase, she says her favorite part of the landscaping business is the transformation process and being able to see the end result after all the chaos of tearing out plants and redesigning.
"The most fulfilling part is making a client's dream landscape a reality," Boase says.
Meanwhile, Mullins enjoys the most how every day is different, from working with different clients on different projects with a different vision.
"I have that instant gratification from doing something that isn't monotonous – it's never boring and each day always something new and exciting," Mullins says.
Struggles and benefits of being female owned
Neither of the women say they've had much of an issue with customers avoiding their business because it's female owned. Since Boase co-owns her company with her husband, she says customers gravitate towards whomever they feel more comfortable speaking with.
"Men sometimes connect better with Brian and bond on a 'bromance' level," Boase says. "However, I would say that women tend to care more about what they want in their landscaping than men do."
In Mullins's case, she says around 90 percent of her customers choose her company, because it's female owned.
"The reasoning behind this – from my perspective – is that women are the ones hiring the lawn care company, the ones paying the bills and the ones out in the yard thinking of how they envision their lawn and garden," Mullins says.
She elaborates that particularly in her military small town, it's mostly women who are home while their husbands are deployed, and they feel more comfortable dealing with another female.
The main struggle that Boase and Mullins said they both deal with is the fact that they can't physically lift as much as their male counterparts. Mullins says when she first started, she stuck with tasks she was good at, including cutting bushes, laying down mulch, mowing and gardening.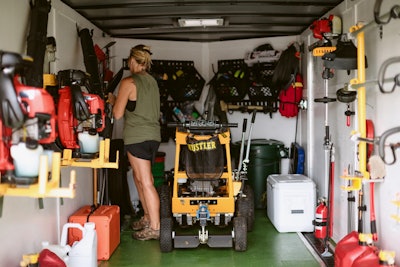 "If it had to do with drainage or irrigation, I wasn't as quick to raise my hand as someone who knew how to do that," Mullins says. "Now that my husband is home, he helps me with those things and has been a great asset to our now family business."
Boase says the green industry has been more accommodating to her than any other industry she's been a part of. She says her time in the military taught her to be resilient and thrive off of challenges.
"You'd be surprised at just how many females either own nurseries, run them or are part of the propagation process, among other things," Boase says. "Additionally, I have found that the men in our industry truly appreciate a female perspective because, from my experience, women are making the landscaping decisions."
Both Mullins and Boase say one of the benefits of being a woman in the industry is they are able to take the common customer request of 'I want it to be pretty' and turn it into an actionable plan.
"As a woman, we're able to communicate on the vision, and they trust me more than they would if I were a man," Mullins says. "I also have great attention to detail – I'm able to see past just the lawn, whether it's that they need their driveway pressure washed or their gutters cleaned, to make a home have great curb appeal and bring a vision to life!"
"I believe that it's sometimes easier for women to interpret what other women mean than it is for men," Boase says.
Advice for other women
When it comes to what advice they'd share with other females in the industry, Mullins says you shouldn't let other people tell you that you can't do it.
"My own husband and father even told me that," Mullins says. "They said, 'You're a girl – you can't do that.' It made me want to do it more and lit a fire in me to prove them wrong! I wasn't doing it because I had a passion for landscaping, I was doing it because it allowed me the flexibility to be a good mom to my children while my husband was deployed."
Boase advises partnering with a local wholesale nursery, as well as learn everything you can about plants, pruning, propagation and more.
"Dedicate yourself to being a lifelong learner, as there's no such thing as an expert in this field," Boase says. "There is always something new to learn. Lastly, get comfortable with being questioned much more than your male counterparts. Success as a female in this industry is accomplished by gaining more knowledge than male-led landscape companies."
Mullins says she has seen more companies hire women in the field, but most women end up in the industry because they are stepping up to help their husbands when it comes to scheduling and invoices.
"I've hired several women that have told me that they've tried applying to other landscaping companies and the job application says, 'men only' due to the fact that men think we are too weak to be in the industry," Mullins says. "My plan for my business in the future is to hire more women – they are loyal, have a great attention to detail and do a better job than most men in the industry!"
Boase says her husband often encourages other male-owned companies to recruit more women to the business.
"Our company wouldn't be anywhere near what it is right now without Kristy and her ability to truly connect with our clients," says Brian Boase, co-owner of MIL-SPEC. "The green industry absolutely needs more female leaders that are out front on social media overflowing with knowledge and paving the way for future women in the industry. I joke around with Kristy and tell her that I'm just the muscle behind our company now, driving the truck, operating machines. She's focused on absorbing as much knowledge as she can and sharing her creativity with the world. I am telling you with 100 percent certainty that the green industry has the capability to be so much more with women at the helm."