With numerous businesses temporarily shutting their doors due to the coronavirus (COVID-19), TLC reached out to landscapers nationwide to find out who has shut their doors and who is still working.
Yesterday, we talked to Thomas O'Halloran, president of T-C-O Landscapes in Eau Claire, Wisconsin, and Greg Taylor, owner of Great Lakes Grounds Management, LLC in Lorain, Ohio, about why they chose to remain open during this time.
Along with the day-to-day changes they've implemented to ensure they are staying safe while performing their jobs, take a look at some of the major pain points they are facing in the wake of COVID-19.
Customer and employee retention
With the crash of the stock market, O'Halloran says he was scared they would see numerous cancellations. Thankfully for T-C-O, consistent clients have remained faithful during these uncertain times, and he adds that his focus now is also drawn to making sure he can keep his current employees on staff.
When news first began spreading about the coronavirus and the effects it could potentially have on his business, Taylor says he posted on the company's Facebook page to notify customers of the possible changes that would be coming in the next few weeks.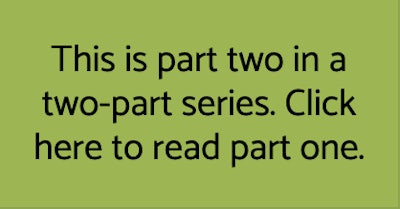 "A lot of them told me that was very professional and they liked that I communicated that to them," Taylor says. "I've kept an eye on other companies in our marketplace and some of them haven't said anything on their social media. I kind of toyed with whether or not I should say something, but I feel like it was best to be proactive and it's been very well received."
So far, Taylor says he hasn't had any cancellations, and he feels confident that there won't be any in the near future. Since COVID-19 began making such a significant impact nationwide, Taylor says he has not hired any new employees, and for now, he says they will continue to operate with the current crew members he has.
Taylor says that while it hasn't proven to be an issue for his team at the moment, he does say that many landscapers could begin to see their crew members choosing to stay home and draw unemployment instead of coming into work, which could pose serious issues for businesses still in operation.
Even though the elderly are some of the most at-risk individuals for the coronavirus, O'Halloran says he's still had several of his senior customers call him asking to receive their regular lawn maintenance services.
"The local government doesn't see that elderly people rely on our industry," O'Halloran says. "Some of them social distance their whole life, so all they do is look out their windows. That shows you that even the people who are affected most by this disease want us on their property to take care of it. I think that sheds a light on how important we really are."
Economic impact
While the company itself might not have taken a hit with the arrival of COVID-19, O'Halloran says he is still extremely concerned about how the US economy will fare once the virus has passed.
"Economic downturn is one of the biggest concerns for me; what's going to happen to the economy as a whole?" he says. "Not just what's going to happen to my business but to everyone else. My concern is, with everyone shutting down, we have small landscaping businesses and flower shops that, more than likely, will not reopen their doors after this."
Taylor says that while he's thankful that his team is still able to work and do so safely, he is concerned about the financial toll this will take on his company in the long run, as right now they are having to gas up more trucks than usual to ensure workers can properly social distance themselves.
Taylor adds that since his trucks are being washed daily now instead of only a couple of times a week, those costs will add up over time, as well.
"From a financial aspect, those small things are going to add up, but it's just what we need to do to continue to operate," he says.
So far, Taylor says he's unsure of the overall financial impact the coronavirus will have on his company, but he knows that with his usual spring cleanup schedule being pushed back, it could lead to employees having to work overtime to make up for the lost production or just set his company behind for the foreseeable future.
Overall, both landscapers agree that if you are currently offering essential services to your customers, do it the right way. They advise that you not give people a reason to suspect you aren't taking the situation seriously, and don't give them a reason to report you for being unsafe during this time.
"Be smart about it," O'Halloran says. "During this time where there's a lot of fear in the world, especially on residential properties, we want to make sure we're doing everything we can to show customers that we are serious about this and that we're taking the proper precautions not to spread this virus. We fight to find these avenues where we can work, and our industry as a whole has to work together now."