The effects of the coronavirus (COVID-19) have spread far and wide, leaving many quarantined in their homes and numerous hospitalized.
During this time, landscapers around the country have begun searching for ways to give back to their communities and raise the spirits of not only their customers but also those of healthcare workers and patients.
Flower power
Miles Kuperus, Jr., CEO of Farmside Landscape & Design in Wantage, New Jersey, says his company is currently still up and running, but along with daily operations, he wanted to try and do something more.
On a recent conference call with other landscaping businesses, he asked the group, "What are we as an industry doing right now that's positive in the marketplace that shows we're a great industry with so much to offer?"
It was shortly after this call that Kuperus had a conversation with their pansies grower and found out that he'd had a cancellation of over 5,000 pansies he was about to have to throw away.
Instead, Kuperus and his team brought the pansies to their local hospital and volunteered labor to install them right by the ER. Kuperus says they've had much positive feedback from the project, and he hopes that it can help boost the spirits of the patients and those working in the hospital.
Kuperus says he has four pillars that are critical in his life: God, family, industry and community/stewardship. Throughout this pandemic, he says he hopes that more landscapers nationwide can make a point to focus on that fourth pillar and give back to their local communities.
"We're going to be judged best by how we conduct ourselves within the community; that's how we're going to be remembered," says Kuperus.
Lending a robotic hand
Brian Chapman, director of fleet and facilities with Lambert Landscape Company in Dallas, Texas, says operations are still continuing for the Lambert's crew, but there's one area of the company that might be seeing a bit more action than others in the coming weeks.
One aspect that sets Lambert's apart from other companies in the area is their use of Husqvarna Automowers, and it turns out that these machines have proven even more useful since the outbreak of COVID-19.
While performing jobs, Chapman says the crews have been asking customers if they have any essential items they are lacking that the Lambert's crew could safely deliver to them as they service their lawns, such as soap, food, toilet paper, etc.
Along those same lines, Chapman says they've also brainstormed how they could give back to healthcare workers in the area who are actively fighting the virus on a daily basis. Then the idea hit him: Automowers.
Chapman says they had about six robotic mowers in the shop they were planning to roll out over the next few weeks, but instead, they are now going to use these Automowers to mow for healthcare professionals in the area, free of both service and installation charges.
"We are going to send out all of these Automowers that we have in stock right now free of charge to put on their yard," he says. "We'll go install them and they'll have their yard mowed for free while this is going on. We wanted to find a way to give back, and these people are going above and beyond for all of us right now."
Hope trees
Terra and Nikos Phelps, owners of Utopian Landscapes, LLC in Harrisburg, Pennsylvania, are still currently deemed essential to operate under the facilities and business maintenance section of their area's shelter in place order.
During their daily work of maintaining properties, Terra says she makes a point of taking time to communicate with clients and find out how they are making it through the quarantine.
She says that if she speaks to a client that she knows doesn't have a big support system, she will offer to pick up supplies or food for them and safely deliver it to their home. She adds that over the past few weeks, they've had the chance to do something as simple as running celery over to a client because he/she wasn't able to leave the house.
One thing Terra and Nikos say they are very excited to showcase in their town is the Hope Tree Project, which Terra adds is becoming part of a national endeavor.
For the Hope Tree Project, Terra says they are taking a high-visibility tree, decorating it and are hoping to be able to use it as a means to take donations for small businesses that can, in turn, be used to purchase meals for communities in need.
"Hope Trees provide hope and inspire others to help out or just try to stay positive and selfless," says Terra. "These trees will be scattered throughout our nation. I encourage homeowners who decorate their own houses for Christmas to light a tree for their neighbors. We just lit one and he's had several people thank him for it."
Homemade help
For Austin Moccia, owner and CEO of Moccia Lawn and Landscape, Inc. in Grosse Ile, Michigan, his company has temporarily shut down physical operations and in the meantime is working via phone and computer to keep in touch with customers and complete projects digitally.
While his crews might not be actively out in the field installing, Moccia says they have still been brainstorming different ways they could possibly give back to their community.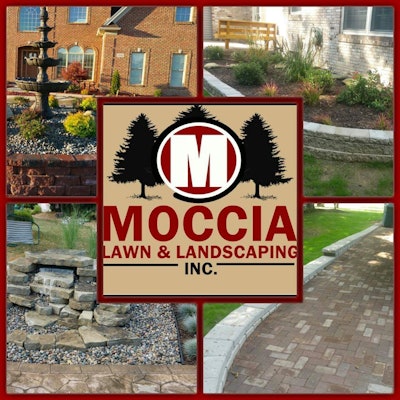 While Moccia says it did cross his mind to go through their stock and donate their excess personal protective equipment (PPE), he says his supply just wasn't substantial enough at the moment to give away.
"We have considered donating PPE, although we didn't have much on hand, unfortunately," says Moccia. "We just barely had enough masks for our hardscape division to legally begin working on the 13th. If we had a surplus, we certainly would have donated."
However, Moccia says before products became scarce, he did order enough raw materials to produce over 6 liters of hand sanitizer, which he says his team may bottle and donate to anyone in the local community in need of it.
Regardless of how big or small the act, these landscapers agree that finding some way to give back to your community could speak volumes, because you never know what one act of kindness could mean to someone during these uncertain times.
"It's important as businesses in the landscape industry that we take these opportunities and show what hope looks like," says Kuperus. "I think it's really neat when we can showcase how we can bring hope and cheer in a dismal time."