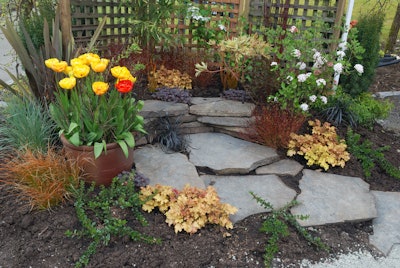 As a landscaper, one of the most difficult spaces to navigate is a small garden. Often, homeowners have completely written off a small garden space, so trying to come up with a design and layout to change their minds can seem like a daunting task. Thankfully, there are some great ideas when it comes to making the most of a small garden, meaning you can turn even the smallest of spaces into a wonderful garden paradise with compact and fitted features to enhance the garden.
Use height to your advantage
Fences, garages or walls are all good spaces to use when it comes to expanding a garden space. Remember, we use walls in the home for mirrors, cupboards and pictures or artwork, so why not apply the same method to a small garden?
Living wall gardens are a great way to fill blank spaces in small gardens and they are both interesting and contemporary. Attach a wooden pallet to a wall and fill with plant pots until the base of the pallet is hidden behind a canopy of lush foliage and plants. Look to use interesting plants, such as Salvia microphylla, geraniums, creepers like trachelospermum and even edible plants such as strawberries or lettuce.
Diagonal paving
As a landscaper, you're sure to know all the tricks of the trade, especially when it comes to paving. Paving is often an issue in many small gardens, as paving which is laid square and straight will make a garden look much smaller than it actually is, but with a few simple paving tricks, you can transform and increase the visual size of any garden.
Laying slabs so that they are on a point, or diamond shape, gives the optical illusion of a much bigger garden, whereas broken or mixed slabs to create a topsy turvy paving style to give the illusion of a bigger space. Lighter colored paving slabs will also help to make a small space appear bigger.
Color is important
Small, drab gardens which consist of just paving or brick will always look smaller because they are lacking one important thing: color. Bright and colorful flowers, plants and features will instantly make a smaller garden appear bigger and lighter.
Yellow or golden colors are perfect for brightening up dark patches that get little sun and bright displays of shrubs and foliage will add a beautiful shade of light to any garden. As a general rule, "hot" colors will make a space feel more intimate, so look to include reds, oranges and dark yellows to a small garden, especially if it is closed in by walls, houses or fences. Cooling colors, such as blues, purples and whites work by reducing the field of vision and will naturally make a space feel larger.
Be clever with furniture
Furniture in small gardens can either take up space or be used to great effect. Too much of the wrong type of furniture can create a cluttered effect and may take up valuable space, which small gardens can't really afford to lose. So, instead of large benches or bulky tables, look for compact options, such as a bistro-style table set, or designer furniture which is more streamlined. This type of furniture helps to create a stylish European or Mediterranean aesthetic to any garden, no matter the size, plus it takes up very little room.
Use pots and containers
When you are working with a small garden space, it's unlikely that there will be much grass or soil space, unless you are doing a full re-landscape job, meaning there will be few places where you can add plants, trees or greenery. Pots and containers are perfect for planting small trees or flowering bedding plants, and they are easy to move around and change.
This is an especially useful trick, as it means that redesigning the space can be done in no time at all. Pots and containers help to keep things flexible and when it comes to small gardens, it is essential to ensure that they are easy to maintain. Pots and containers can also be used to grow fruits, herbs and vegetables, such as tomatoes, peppers, chillis, lettuces and carrots without using up lots of space.
EDITOR'S NOTE: This article was written by Natalie Wilson. Wilson is a passionate writer with a love for all things home, garden and landscape. Wilson has always enjoyed writing about the latest home décor trends and gardening tips.