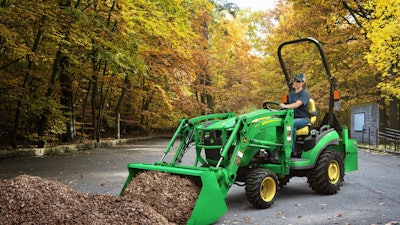 John Deere recently announced the launch of its Mechanical Self-Leveling Loader (MSL) option for small tractors. Designed to keep loads level throughout the lift, the company says the new loaders are compatible with John Deere 1E, 1R, 2R and 3E compact utility tractors.
Most compact tractors utilize a loader, so John Deere says it recognized the need for MSL technology in its small tractor lineup. The company says its MSL system allows the operator to maintain a level bucket or pallet position from the bottom of a lift to the top. John Deere says this provides increased stability for the materials that are being lifted and reduces the potential for materials to fall back towards the tractor.
The company says the new system is easy-to-use when compared to non self-leveling loaders. With an MSL, John Deere says the loader joystick is pushed forward to lower and back to lift, and the load automatically stays level throughout the range of motion, without any left-to-right adjustments with the loader joystick.
In addition, John Deer says the MSL loaders provide an increase in lift capacity of up to 40 percent when compared with the non self-leveling loaders.
"Our new MSL makes it easier for our customers to move materials by automatically keeping the bucket or pallet forks level," says Ray Gherardini, product marketing manager, John Deere. "With the new Mechanical Self-Leveling Loaders, customers can confidently operate the loader through a full range of motion while keeping the load level, and save time by moving more with every load."
Additionally, John Deere says the MSL loaders for 120R, 220R and 300E will be available with a third function kit which enables the use of additional attachments such as the 4-in-1 bucket. The company adds that the QuikPark loader mounting system (available on the 1E, 1R and 2R) and Quik-Change attachment carrier provide operators the ability to quickly install and remove implements as needed to complete the task at hand.
Ruppert Landscape welcomes new branch manager
Ruppert Landscape recently announced the addition of Adam Doyle as branch manager in the company's West Grove, Pennsylvania, landscape management branch.
The company says Doyle has 18 years of industry experience, having started with a small landscape company in the Baltimore area in high school. He attended Virginia Tech where he majored in horticulture with a minor in landscape contracting and graduated with a BS in 2006.
After college, he spent several years with a leading landscape organization, working in three different locations first as a supervisor and finally operations manager before joining Outside Unlimited in southern Pennsylvania in 2012. He began as an enhancement field manager overseeing a two-person crew and during that time was instrumental in helping increase revenue from $100k to $350k.
In the years that followed, he helped grow the team and the book of work exponentially, reaching $3.2 million in revenue in 2018, at which time Outside Unlimited opened the West Grove location and appointed him branch manager. When Ruppert Landscape purchased the West Grove location from Outside Unlimited, Doyle agreed to stay on with Ruppert and continue to oversee operations there.
"We are very excited to have Adam on the team," says Damien Barber, region manager in Ruppert's landscape management division. "He brings a wealth of leadership and industry experience and is a great fit with the Ruppert culture. We look forward to him continuing to lead and grow his team in West Grove."
As branch manager, the company says Doyle will be responsible for the overall welfare of the branch, including the safety and development of his team, strategic planning and budgeting, training and day-to-day operations.
The West Grove branch offers the following landscape management services: grounds management/contract services; design and landscape enhancement; turf care; irrigation system management; pond and lake management; arbor care; snow and ice management; lighting and holiday decorations. The branch primarily serves clients in Southeast Pennsylvania and Northern Delaware including Chester County, Delaware County, New Castle County and Kent County.
LANDSCAPES 2020 set for October
The National Association of Landscape Professionals (NALP) announced that LANDSCAPES 2020 will be held October 20-23 in Louisville, Kentucky.

This year, more than ever, NALP says it is important to stay on top of the latest trends and strategies. With more than 50 educational sessions delivered by leaders and industry experts, NALP says attendees will be able to connect with and learn from peers at networking events; see the newest state-of-the-art equipment at GIE+EXPO, and take home actionable insights to help your company grow.
"We are looking forward to LANDSCAPES," NALP says online. "We are monitoring travel and social distancing guidelines from federal, state and local agencies as it relates to COVID-19 and we are adapting the LANDSCAPES program to suit. We are continually monitoring the governor's orders for indoor and outdoor events. At this point, large public events are planned in Kentucky for late summer and fall. If there are any changes to our conference plans, we'll announce those as soon as possible."
Registration is now open and the deadline for early registration is August 25. The deadline for hotel registration is September 28.
Vectorworks offers discounted licenses to graduating students
To help graduating students transition into their professional careers, Vectorworks, Inc. says it is offering recent graduates 40 percent off perpetual licenses as part of its student2PRO program. This deal is applicable to any Vectorworks product.
"Starting a career after graduation is a momentous milestone for any graduate, and the student2PRO program is the perfect initiative in helping graduates take that first step toward career success without having a huge financial burden setting them back," says Alice Lowy, marketing programs director. "This option is to help ensure up-and-coming professionals have the necessary 2D drawing, 3D modeling and BIM tools to bring their designs to life."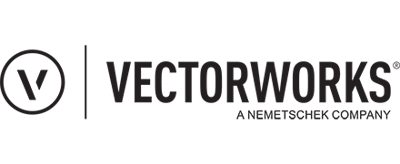 The company says student2PRO is a gateway program helping recent graduates jumpstart their professional careers more easily by offering discounts on the standard price. Additionally, Vectorworks says those who take advantage of student2PRO are eligible for a 40 percent discounted membership to Vectorworks Service Select — the maintenance program that includes upgrades to product, priority technical support, exclusive training opportunities and early release of new content libraries. Service Select members also receive member-only features in Vectorworks Cloud Services.
"Going the student2PRO route was such a valuable option for me and now as a full-time lighting designer, I use the features in Vision and Spotlight in my day-to-day work on theatre productions," says Chloe Clark, a San Diego State University alumna. "Not only is the program an economical option for graduating students, but it's also beneficial that Vectorworks updates and enhances its software regularly in conjunction with my industry constantly changing. It's an easy way for me to always stay up to date."
To qualify for student2PRO, graduates must have completed a degree at a university, college, post-secondary vocational or poly-technical school within the past 365 days and submit transcripts or a diploma showing degree completion and graduation date.
HNA now accepting entries for annual awards
Entries for the 2020 Hardscape North America Awards are now being accepted. HNA says the annual awards program honors outstanding residential and commercial hardscaping designs for walkways, patios, pool decks, outdoor living kitchens and living spaces and driveways, as well as commercial plazas and streets. The online application is available here.

Award winners will be recognized during a virtual HNA Awards Recognition Presentation on October 22 and will be featured in Interlock Design magazine, the HNA website and several other industry publications.
"We've been pleased to recognize many impressive projects through the years," says Marshall Brown, board chair of the Interlocking Concrete Pavement Institute (ICPI). "The number of competitors grows each year from across the United States and Canada, and we're always excited to recognize the exceptional workmanship, creativity and collaboration between designers, manufacturers and installers."
Eligible projects include residential and commercial projects in the following categories:
Clay brick
Clay brick – permeable
Concrete paver
Concrete paver – permeable
Segmental retaining walls
Combination of hardscape products
Porcelain paver
Natural stone
Outdoor living features
Vintage installation
HNA says all entries, except the vintage installation category, must have been completed between November 1, 2016, and June 30, 2020. Projects are juried by industry experts for their excellence in design, quality, compatibility and construction. The entry deadline is September 4.
The HNA Awards are produced by the ICPI and endorsed by the National Concrete Masonry Association (NCMA) and Brick Industry Association (BIA).
Casey Kralovetz named new branch director at Stihl Northwest
Stihl Inc. announced the promotion of Casey Kralovetz from sales manager at Intermountain Stihl to branch director of Stihl Northwest. As branch director, Kralovetz will be responsible for directing and managing the sales, distribution and service of all products, parts and accessories at the company-owned branch. He will also lead the development of advertising and marketing plans for the territory, which encompasses Washington, Oregon, Idaho and Alaska.
"Casey is a natural choice for this position," says Nick Jiannas, vice president of sales and marketing at Stihl Inc. "With his previous experience as a territory manager and sales manager at Intermountain Stihl and dealer services manager at Midwest Stihl, Casey will be a valuable asset for the Stihl Northwest team and the dealers in the region."
The position was formerly held by Dave Warren, who will begin his new role as general manager of Stihl Limited in Canada.
"I am humbled by the opportunity to continue the legacy established by Dave Bulger and perpetuated by Dave Warren," says Kralovetz. "I look forward to leveraging my background and experience to further support and grow our Stihl Northwest dealer network."
Kralovetz started his nine-year career at Stihl Inc. in 2011 serving as product management specialist in Virginia Beach. In his most recent role as sales manager at Intermountain Stihl, Kralovetz was responsible for sales operations in Colorado, Montana, Wyoming, New Mexico and Utah.
Prior to his career with Stihl Inc., Kralovetz owned a tree care service company and worked as an ISA-Certified arborist. Kralovetz earned his associate degree in horticulture and arboriculture at Milwaukee Area Tech College, and a Bachelor of Arts in business management from Lakeland College in Sheboygan, Wisconsin.
Aquascapes announces theme and schedule for online Pondemonium 2020
Aquascape, Inc. recently announced "I ❤ My Art" as the theme for the first ever virtual Pondemonium.
Distributors, contractors and retailers are invited to register and join the online event from the comfort of their home, office or pond. The online training sessions are being held August 26-27.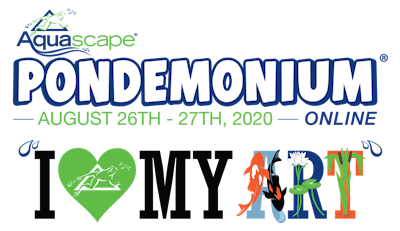 "We're excited about this year's theme and anxious to help water feature professionals continue growing their business in 2020 and beyond," says Greg Wittstock, founder and CEO of Aquascape, Inc. "Whether you're a novice just starting to learn the craft or a seasoned professional celebrating decades in the business, Pondemonium continues to be the perfect opportunity to connect with successful water feature professionals who share your drive and passion."
The company says Pondemonium will have a full schedule of online webinars and classes, starting with cup of coffee sessions each morning, keynote presentations, general sessions, award ceremonies and contests all day long.
The company says the only thing missing from this year's event is the hands-on aspect of building water features, having everyone together in one place and the required travel time. Instead, Aquascapes says multiple training sessions covering a wide range of business and construction topics will be led by familiar and popular industry experts.
The $99 registration fee grants access to all sessions for 24 hours. For an additional $50, access to all Pondemonium content is extended for 90 days.
Click here to view the event schedule and register for Pondemonium 2020 Online.