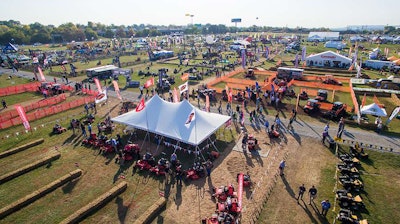 The Outdoor Power Equipment Institute (OPEI) announced today that this year's GIE+EXPO will be postponed to 2021 due to the ongoing concerns surrounding the coronavirus pandemic.
"It was two-fold," says Kris Kiser, president and CEO of OPEI, and managing partner of GIE+EXPO. "We really became unsure that we could protect the safety of everyone, even with the protocols put in place, and with regulatory uncertainty from the state, there was no guarantee we could put on the show when we got to the date."
Kiser says with the virus spiking in certain areas over the last two weeks, having people traveling nationwide to attend the show presented a safety issue.
"A lot of people were going to have to quarantine if they traveled to Louisville upon their return, so it became challenging," says Kiser. "On the regulatory side of it, although the governor had green-lighted the show, there were severe restrictions, and the governor had reserved the right to cancel the show at any time, as warranted."
Kiser says there are talks of potentially offering some sort of virtual or remote GIE+EXPO experience in lieu of the tradeshow, but those details have not been finalized as of yet.
However, Kiser notes that the National Association of Landscape Professionals (NALP) has announced that they will hold their LANDSCAPES 2020 event virtually.
"While we know you'll miss seeing colleagues in person, we are excited for the opportunity to share valuable education and networking in a new way – one that fits your schedule and enables more of your team to attend," NALP says online.
Kiser says the city of Louisville is currently in the midst of "an extraordinarily challenging environment" due to recent protests, ongoing police investigations and damage done to the downtown area.
"Downtown unrest is a challenge," says Kiser. "That also went into consideration. Are the hotels open? Are the restaurants able to feed folks? Are there social avenues available? All of that uncertainty went into the decision. Can we guarantee hotel rooms? No. Could we guarantee restaurant space? No. Could we guarantee social opportunity? No. What we could guarantee is what we could do out at EXPO, and there are significant improvements underway."
Next fall, OPEI says attendees and exhibitors will experience several updates to the Kentucky Exposition Center grounds. The facility is undertaking $8 million in outdoor improvements and enhancements, including:
Replacing the main entry gates to improve ingress and egress.
Expanding paved areas on the north side of the building to increase exhibit space opportunities.
Relocating more than 126,000 cubic yards of dirt to the Outdoor Demonstration Area to improve drainage and irrigation to the grounds.
Adding permanent driving lanes to the Demo Area.
Improving pedestrian access from nearby hotels by adding sidewalks that extend from Phillips Lane to the new main gate.
On a positive note, Kiser says there has been "extraordinary energy" surrounding the tradeshow's return in 2021. The OPEI says planning is already underway for GIE+EXPO 2021, which is scheduled to take place Oct. 20-22 in Louisville, Kentucky. Registration is currently open for next year's event.
"Everybody is erring on the side of caution, but there seems to be a real energy and focus on making sure that 2021 is a doorbuster event," says Kiser. "We think we'll have a dandy 2021 show. Like everyone, we just pray this COVID-19 business gets under control."