Earlier this year, members of the National Association of Landscape Professionals' (NALP) Young Professionals Network came together to create the Growing in the Green Industry podcast, where green industry experts discuss topics ranging from improving your business to bridging generational gaps in your company.
Hosting the podcast are Miles Kuperus III, system architect at Include Software; Luke Melograno, production coordinator at Mariani Landscape; Neal Glatt, managing partner of GrowTheBench; and Brett Lemcke, VP of R.M. Landscape.
According to podcast manager Courtney Lawlor, manager of workforce development and government relations with NALP, it took a few years to figure out the perfect platform the Young Professionals Network could utilize to get information out to its audience.
As active members of the Young Professionals Network, Kuperus and Melograno wanted to find a way to get younger people involved and interested in the green industry. They'd toyed with the idea of using Facebook at first but ultimately determined they wouldn't get the necessary momentum on that particular platform, as it needed to appeal to a wide age range.
"It's hard to find a platform where everybody can be together in one place," says Kuperus. "With Facebook, we didn't want to become another online forum page or anything like that. We wanted it to be a place where people can come and learn and discuss issues and concerns they're having."
Lawlor says after Britt Wood, NALP's CEO, came aboard, he recommended the idea of a podcast, and the group began working out the details.
"(Podcasts are) a great way to connect with young professionals because so many people nowadays listen to podcasts," says Melograno. "They don't necessarily go online and read all the time, but they'll listen to podcasts as they're driving or working at the office. We thought it would be a really great way to connect and bring some value to other young professionals within the industry."
In this week's episode…
When determining the tone of the podcast, Kuperus and Melograno wanted to make sure that it was never simply a question and answer format, as they believed that would prove boring to listeners.
"(The podcasts I listen to) all have different themes and typically discuss different subject matter, but they all have real conversations with their guests instead of just an interview where the host asks a question, the guest answers and they move on to the next," says Melograno. "I think podcasts like that are just boring and the listeners tend to lose interest in it. That was important to me going into this project."
Instead, the hosts wanted the chance to engage in authentic conversations with guests and provide thought-provoking content that would benefit all green industry professionals.
"The core vision of the podcast is to always provide value back to other people in the industry," says Kuperus. "Our whole goal isn't to be a huge podcast. We know there's a need for really good content and good value in this space, and we want to make sure people are getting good insights that can help them in their day-to-day lives."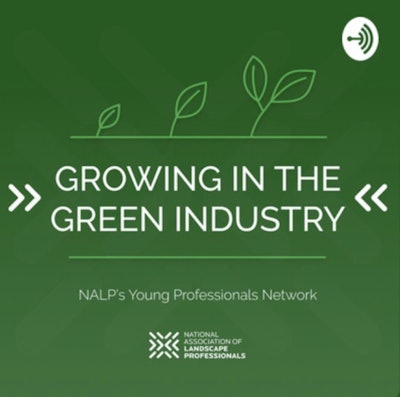 Melograno says he hopes that listeners are able to take at least one bit of relevant information or one actionable item from each episode that helps them improve in their career, business or personal life.
"The podcast provides open conversations about the day-to-day pros and cons relating to the industry," says Lawlor. "It is so important to understand both sides of the spectrum in order to grow and advance in one's profession. In addition to the great insight and advice that is provided, the hosts are very entertaining and keep the conversation fun. Educational and fun? Wh​at more could you ask for out of a podcast?"
This week's guest is…
Each week, the podcast hosts different green industry professionals to cover topics regarding business operations, green industry practices, interacting with employees and more.
When they first started, Lawlor says they reached out to potential guests that they believed would be able to provide insight to both young professionals already in the green industry and those still considering it.
"The main goal is discussing topics and providing insight that will benefit young professionals," says Lawlor. "While questions are provided to our guests, we encourage natural conversation because that is what we believe will benefit our listeners the most."
With the podcast continuing to grow, Lawlor says they now have people reaching out to them with ideas of potential guests and discussion topics.
Lawlor says she hopes to continue to have guests on the program that are willing to open up and discuss both the good and bad aspects of their profession because "a good employee needs to know how to work successfully in any situation."
Kuperus and Melograno agree that they would one day like to host guests with larger companies from outside the green industry that could talk on issues that most small businesses don't typically face.
They add that it could also prove beneficial to host landscapers just starting up in the industry, as this would give the guests a chance to ask questions openly and give the audience a fresh perspective on becoming part of the green industry.
"I have learned a lot since starting this project, but I would say the most valuable information has come from the guests and hosts," says Lawlor. "Every episode is different but also relates to a majority of people in the industry. I think it is important to be able to learn from other people's experiences. We are fortunate to have guests that can provide different advice and perspective to our listeners."
Tune in next week…
The group says the podcast has been well-received so far, and each week they are able to see listenership totals steadily climb.
When starting out, Kuperus and Melograno say they understood the project would be an overnight success, and they are confident that it will only continue to get better as they go.
When asked why they thought young professionals should tune in to the podcast, Kuperus and Melograno agreed that because of the hosts they have, listeners can be confident in the fact that they will always receive authentic and relevant information.
"All four of us are part of the green industry, have experience, all have different backgrounds and all share a passion for servicing others and making sure that others succeed," says Kuperus. "We aren't trying to sell you something, get our points across or elevate ourselves through this platform. We want to provide authentic conversations that help people get value from the content."