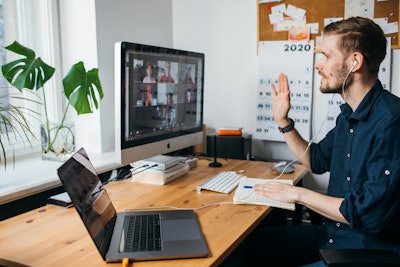 When COVID-19 first arrived on the scene, landscaping companies were forced to take a step back and reevaluate how they would continue operations under less than ideal conditions.
For most of the green industry, remote working became part of the new normal for administrative staff, and in many areas of the country, those employees remain remote.
Total Landscape Care talked with landscapers across the country to see how remote working has affected their businesses, as well as whether they see remote working becoming a regular part of the green industry going forward.
Getting a plan in action
For Will Greathouse, president of The Greathouse Company in Nashville, Tennessee, operations didn't shut down at the onset of the virus, but the office staff was transitioned into remote roles, start times for crews were staggered and other safety measures were implemented.
"We already utilize laptops for a majority of our office staff, so overall the transition was smooth," says Greathouse. "I can't stress how impressed I am with our staff. Everyone rose to the occasion and made the most of a very difficult situation. The toughest process to replicate remotely was the transfer of paperwork like receipts, PO's, etc. We bought a scanner/printer for our office assistant to install at her house and that has helped."
Marty Grunder, president and CEO of Grunder Landscaping Company in Dayton, Ohio, says they did have to temporarily shut down and could not work at all for five days. For the next 30 days after that, Grunder says they were only allowed to do work that was deemed essential.
"We were able to seamlessly schedule work, sell work and communicate with clients all through Aspire," says Grunder. "That helped us immensely. I am so thankful we switched to them at the first of the year because it really helped us stay on track. The sense of urgency that COVID-19 created actually forced a lot of the use of technology, and it's been a blessing."
Scott Fullerton, CEO of Fullerton Grounds Management (FGM) in Kenvil, New Jersey, initially shut down the company for two days to take stock of what needed to happen going forward.
The company soon transitioned to remote work, and he says the administrative staff was supplied with the necessary technology to accomplish their tasks.
At first, Fullerton says he didn't view working remotely as successful, and it took almost a month to get everyone in the company set up to properly work from home.
"It was just crazy all the gyrations we had to go through to get it all set up," says Fullerton. "But we got it set up, and I hated it."
Fullerton says there was, indeed, a learning curve with transitioning to remote work life, and he felt they were all missing out on a lot of what employees were going through in their everyday lives. He says being able to video call with everyone made it a little better, but he still missed the human element of running a company.
Pros and cons of remote work
For his team, Grunder believes teamwork and working together in the office space will be necessary for getting the absolute best products and designs they can. There's an element of collaboration that he says might be lacking if everyone or numerous people on a team were remote because there's so much hands-on, person-to-person interaction that is needed.
"I can't say I see remote working as being the wave of the future, but I think any company that is not embracing technology that allows them to work remotely is making a serious mistake," says Grunder.
The main issue Grunder says he sees with remote work is that it takes away certain aspects of a company's culture, and to many landscaping companies, culture is key.
"Company culture matters so much, and I don't know how you onboard somebody remotely into your culture," says Grunder. "Absolutely, I worry about the long term ramifications of people feeling appreciated and people having a unique bond with a company. Are we just going to turn into all transactions where I'm just a hired gun and I work from home? I don't see that as being a long term solution."
Harkening back to his high school and college years, Grunder says he has always had a passion for people, which he says translated into the culture he built for his company.
"I'm a people person," says Grunder. "I like meeting people, and I don't see that ever going away. People are what make the world go around."
While it's not his first choice, Fullerton says he could see their remote set up staying like this for a long time, and he has even considered the idea of long term remote workers.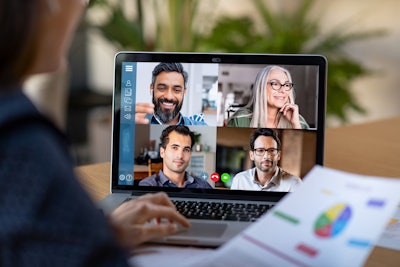 Fullerton says there are efficiencies and inefficiencies to remote working. On the positive side, he says he thinks not being surrounded by so many coworkers helps some employees get more work accomplished. He also says remote working has helped cut down on company-wide spending. Lastly, Fullerton says his controllers and branch managers have spent more time looking at reports than being out in the field, which he says is extremely positive.
For cons, Fullerton says not being able to directly speak with team members in person throughout the day does slow down progress at times, as now they must call, send messages or emails or do a video call to ask quick questions. As an owner, Fullerton says another con to remote working is feeling out of touch with his employees, as there are times when he goes an entire day without talking to some staff members.
"I think it makes it a colder, more antiseptic type of environment," says Fullerton. "I'm a guy that likes to talk to my laborers, the foremen, the supervisors and the managers, and it's not happening nearly as much. Probably for every pro, there is an equal and opposite con."
The last major con Fullerton has noticed is that when working remotely, some of the smaller details of projects can sometimes fall through the cracks due to electronic communication. When his teams were face-to-face, he says little things were less likely to get overlooked or forgotten.
Fullerton says they were in the middle of building a new headquarters before the virus and were expanding from 1,000 to 6,000 square feet of office space. The project is currently on hold, and he admits that he no longer knows if that's the direction they should go under the current circumstances.
For some companies and some positions in the green industry, Fullerton says having more remote employees could be the wave of the future, but he says there are still some companies out there that don't embrace the idea just yet.
Struggles and adjustments of working remotely
When the remote working situation was first presented, Greathouse says his team was ready and willing to do whatever was necessary to keep operations running smoothly, but this transition did not come without a few struggles.
"We all feel very blessed that our industry and our jobs are considered essential and that we were able to be working at all," says Greathouse. "I think our entire team misses the camaraderie of being at the office together. Information and workflow have transitioned well. We can do most things through email and phone calls but overall, I think we all need to be socially connected. We miss the 'water cooler talk' and general banter of being together."
Along with the feelings of disconnect among the staff, Greathouse says measuring the performance of remote employees proved to be difficult. While financial performance is easier to track, Greathouse says keeping in touch with employees professionally and personally has been his biggest challenge.
Even with their weekly and biweekly virtual meetings with managers, Greathouse says he still feels somewhat disconnected with the team, as he says there's only so much connection you can achieve via Zoom or phone calls.
"I am a firm believer in culture and connectedness," says Greathouse. "(Remote working) has opened my eyes to the potential flexibility of some positions that may be able to work part-time from home, but I believe that a close-knit team produces the best results."
Overall, Grunder says he believes his employees enjoyed being able to work from home, but he also thinks they are relieved and happy to once again be back in the office, as he believes his team thrives on being able to interact with one another face-to-face.
"I hear people say, 'I don't know if they're getting any work done if they're at home; they might be goofing off,'" says Grunder. "Well, that's a bad mindset to have. From the start, you as a manager ought to be able to set a system in place that you know if they're productive."
While he doesn't see it as a long term solution for his company, in particular, Grunder does say that this extensive practice in remote work has thoroughly prepared them to work from home if they are ever required to do so again in the future.
For Grunder, the biggest struggle he faced was the mental struggle the situation put on him as a business owner. In all of his 37 years of his business career, he says it was "unequivocally the lowest point."
"Like many entrepreneurs, I've got about everything I own invested in this business," says Grunder. "And to have tons of work, beautiful weather, all systems go and we can't go because there's a pandemic…that was not a good day. It's the busiest time of the year. It's Christmas for us, and we have to deal with all these new obstacles that we've never been presented with before. There's no playbook for this thing."
Check back tomorrow for part two, where we'll find out how these landscapers have been trying to keep their company culture alive during the pandemic, as well as how they are regaining some normalcy in their day-to-day operations.