Manitou Group recently presented Leavitt Machinery a Manitou 2019 Top Dealer Award for North America. This award is based on the overall sales performance, commitment and customer support of Manitou equipment.
"It is an honor to once again congratulate Leavitt Machinery for another outstanding year in 2019," says David Chickowski, Manitou managing director-west. "John, Jay and many others on the Leavitt team have represented Western Canada since 2013. Their dedication to the brands will allow both Manitou and the Leavitt organization many years of future growth and success."
Leavitt Machinery says it is looking forward to exciting growth opportunities with the Manitou branded skid, track and articulated loaders.
"Leavitt Machinery is one of the fastest growing material handling equipment dealers in North America," says Kevin Bitter, Leavitt Machinery agriculture product manager. "We pride ourselves on providing a wide variety of equipment options and services for every application. With over 25 locations, including dedicated service branches and training centers, we offer new and used equipment sales, short and long term rentals, emergency and preventative maintenance, safety training and parts support."
Yanmar selects new commercial director
Yanmar Compact Equipment North America announced Tate Johnson as commercial director.
The company says Johnson will be responsible for channel development, sales and national accounts for Yanmar and ASV compact equipment in North America, and he will focus on expanding the availability of ASV and Yanmar compact equipment products to customers.
"I'm excited to join the Yanmar and ASV team," says Johnson. "I can't wait to get out in the field to meet dealers and customers and discuss ways we can better serve them and grow our presence in North America."
Johnson brings more than 20 years of experience developing, fielding and supporting products used in mission or job-critical applications. The company says he is experienced in channel development and product management, marketing and commercial sales and business development. Yanmar says he also brings experience in business strategy, P&L management and business and profit growth.
"Tate brings a wealth of experience in finding ways to grow businesses and make customers' lives easier," says Kevin Zimmer, president of Yanmar Compact Equipment North America. "We're excited to have him join the team as he helps us find new ways to serve our dealers and customers."
Johnson earned a bachelor's degree in physics from St. John's University and has graduated from the executive business acumen program at the University of New Hampshire and the mini-MBA program at St. Thomas University.
Project EverGreen expands SnowCare for Troops to help healthcare workers
As winter approaches, Project EverGreen says there will be a need to assist healthcare professionals and first responders serving on the front lines with snow removal services, and Project EverGreen's SnowCare for Troops program is ready to help.
Project EverGreen, along with program sponsor Boss Snowplow, announced the formation of the SnowCare for Troops Cares for Our Healthcare Heroes program.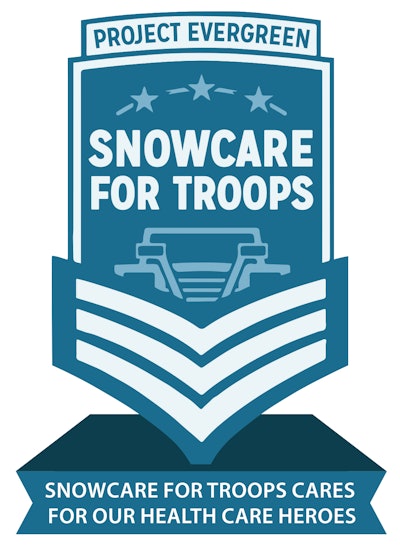 To participate, SnowCare for Troops volunteers are asked to nominate frontline healthcare professionals in their community to receive snow and ice removal services. Volunteers are encouraged to identify potential recipients through neighborhood groups, school or church groups or social media. The expanded program will run through April 1, 2021.
"We realize we can't help all front-line heroes, but we hope that with the support of our dedicated volunteers we can provide vital snow removal services to healthcare professionals during this unprecedented time," says Cindy Code, executive director of Project EverGreen.
The organization says volunteers will determine how many individuals or families they can help, and what services they can provide. Code suggests that volunteers identify people directly related to the healthcare field such as nurses, paramedics, health care workers conducting coronavirus testing and hospital support staff.
"Boss is proud to continue to support Project EverGreen and the SnowCare for Troops program," says Mark Klossner, director of marketing, Boss Snowplow. "We are very excited to extend this service to healthcare heroes and we know that snow and ice professionals will step up to help them. Snow and ice professionals work every day to ensure that driveways, roadways, parking lots and sidewalks are clear of snow and ice so that medical facilities and emergency response teams are able to perform their duties and help those in need when they need it most."
Once an individual or family has been identified and parameters of service established, SnowCare for Troops volunteers are asked to provide the name, address and list of services provided to Project EverGreen for its database to ensure they are properly matched in the database.
ISOtunes expands roster of headphones with two new designs
ISOtunes recently announced the launch of two new products: ISOtunes XTRA 2.0 and ISOtunes LINK. While LINK is the first Bluetooth earmuff headphone for the company, XTRA 2.0 features a redesign of ISOtunes' neckband-style line.
Ranging from $69.99 to $79.99 (US MSRP), the company says these Bluetooth products maintain ISOtunes' SafeMax technology while introducing enhancements in design and functionality. Unlike most headphones, the company says all ISOtunes headphones limit the volume to 85 decibels (dB) and offer a noise reduction rating (NRR) between 22 and 29 dB, making them OSHA and NIOSH compliant.
"When we came out with our first product in 2016, we noticed a need for an in-ear version of a Bluetooth hearing protector," says Eric Murphy, co-founder of ISOtunes. "Since then, we've been committed to personal safety and continue to meet OSHA and ANSI requirements so our products can be used as hearing protectors in the workplace. We continue to develop and upgrade our products based on consumer demand and believe both ISOtunes LINK and ISOtunes XTRA 2.0 will continue to meet those demands."
ISOtunes LINK ($69.99 MSRP):
ISOtunes LINK is the company's first Bluetooth earmuff, perfect for the worker who prefers over-ear hearing protection but refuses to compromise their listening experience. Lightweight and comfortable with a 14+ hour battery life, the company says LINK safely reduces damaging noise by 24 dB, and its noise-isolating microphone also blocks out steady-state noise for clear calls in loud environments.
ISOtunes XTRA 2.0 ($79.99 MSRP):
ISOtunes XTRA 2.0 provides an all-over upgrade to ISOtunes' neckband-style line with magnetic earbuds. With an NRR of 27 dB, the company says XTRA 2.0 is fully water, dust and sweatproof and comes with an increased battery life of up to 11+ hours. With a redesigned controller, the company says the XTRA 2.0 is ISOtunes' easiest-to-use product for staying connected and protected while you work.
Both ISOtunes LINK and ISOtunes XTRA 2.0 are currently available for pre-order online.