The idea of franchising is not always met with positive initial reactions, but Russ Jundt, founder of Conserva Irrigation, says many small businesses could benefit greatly from the process.
If you've considered becoming part of a franchise, take a look at what mistakes you should avoid when franchising, as well as how you could benefit from it.
Mistakes to avoid
From a conversion standpoint, Aaron and Lee Knepp, Conserva Irrigation franchise owners in Columbus, Ohio, say they did not have their new website up and running for the first year because they still wanted customers t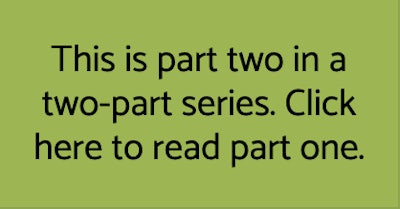 o be able to find them easily.
To let customers know of the upcoming change, the Knepps sent out emails and paper mailers, but looking back, Aaron says it would have been worth it to call each individual customer and let them know of the transition.
In hindsight, Aaron says he believes they should have done a better job of helping previous clientele understand the changing situation, as well as the reasoning behind the change. Aaron says many people were under the impression the Knepps were selling the business, and he thinks they could have done a better job of communicating that to the customers and employees.
"That's what a lot of people didn't understand was exactly why we were converting over," says Aaron. "Our growth was plateauing out and we were really struggling to get over the two million mark. Then we were able to get that and exceed that, and now we're seeing larger growth this year than in previous years."
The Knepps add that being part of a franchise allows them to expand outside of the Columbus market, and if they do decide to sell their business in the future, being part of a franchise will also make that process easier.
As a franchise owner, Jundt says the number one mistake to avoid is not following the system that's already in place.
"All the systems have been developed as best management practices to catapult you into success, and they've been vetted out and are tried and true across north, south, east and west," says Jundt. "Run the play first and then let's address any improvements. Don't sit there and change the wheel first."
The benefits of franchising
The Knepps agree that one of the biggest benefits of partnering with Conserva has been the team of support behind them since the start.
"If we need extra assistance on something, we're able to make a call and they help us quickly, either on the technology side or the website side," says Lee. "There's a lot more people there to help us than just the two of us trying to figure everything out on our own."
Aaron adds that being able to network and collaborate with other franchisers in the same situation has helped make the transition much smoother.
Aaron says that being part of this community has allowed him to become friends with other franchise owners that understand the daily struggle this line of work offers. He says he's also able to get advice and talk through struggles with them to help find out what's happening in their industry.
Other benefits the Knepps have experienced are better national pricing on materials, vehicles and services like QuickBooks.
"There are so many competitive advantages to joining a larger team," says Jundt. "They can focus on exactly what they're great at. They don't have to be the pros at marketing, and they don't have to be the accounting or the business management gurus. We've got a team to help them and coach them on that."
When asked why more green industry professionals should consider franchising, Jundt says it comes down to cooperative competition, or as he likes to say "cooperatition."
Jundt reiterates the idea that when you're part of a franchise, you're in business with others for yourself, but you're not all by yourself. Being able to share best practices, he says, can help significantly accelerate your success and help you avoid pitfalls that others have fallen into.
Jundt adds that people also greatly enjoy the competition element that comes with franchising, as people naturally want to compete and have goals to work toward.
Jundt says it typically takes one season, or four to six months, to complete the transition. During this time, he says many of the hiccups will be ironed out, and thus far the process has proven to be extremely streamlined.
"I believe that people want to be a part of something bigger than themselves," says Jundt. "I do and many of us do. We want to celebrate successes together. We don't want to be an island, and when you're in business for yourself, you're in business by yourself. We value your opinion and you can help put your stamp on this company."