Photo: Vermeer
At a recent Make-A-Wish Day celebration held at the Vermeer Wisconsin facility in Madison, Wisconsin, Edgar Contreras was presented with the tools of the trade he needs to turn his dream of owning and operating his own
landscaping company
into a reality. Contreras is a 19-year-old from Milwaukee who is battling thyroid cancer.
Orchestrated by Make-A-Wish Wisconsin, Contreras received a new Vermeer RTX250 pedestrian trencher, as well as a trailer to haul it with, an extended service package, an update to his truck's towing package, a generator, personal protective equipment (PPE) and a variety of hand tools. Donations were made by Vermeer Wisconsin, Vermeer Corporation and KS Energy Services Inc.
While presenting Contreras with his new tools of the trade, Chris Brouwers with KS Energy and Bear Reynolds with Vermeer Wisconsin expressed their commitment to helping Contreras on this career path by offering operator training, business development consulting and help navigating the many challenges of starting a company.
"Everyone at KS Energy and the Klumb family supports Make-A-Wish Wisconsin and the organization's efforts to fulfill dreams of children and their families," says Brouwers. "This unique wish is near and dear to our hearts. Edgar is a wonderful person who has risen to the challenges life has put in his way, and we're confident he will be successful in the landscaping industry."
According to the director of marketing and communications for Make-A-Wish Wisconsin, Forrest Doolen, the dream of starting a business is one Contreras shared with their team during his cancer treatment, but given the nature of his request, it took some time to grant.
"When Edgar said he wanted a trencher, we reached out to KS Energy, who in turn looped in the team at Vermeer Wisconsin and Vermeer Corporation," says Doolen. "The three organizations worked together to make sure they were providing more than just a piece of equipment — but also giving him the tools he needs to establish a business and support along the way."
Growing up helping his father install irrigation systems is what spurred Contreras' dream of owning his own landscaping business. After much discussion with his family, he determined that owning a trencher would be the best way to get started.
After turning over the keys of the Vermeer trencher to Contreras, Reynolds assured him that the team at Vermeer Wisconsin and Contreras' business would have a relationship for many years to come. He went on to tell Contreras that everyone at their dealership will be there to help him along the way.
"Everything from helping with the normal business things like service, parts and training support, to being a sounding board for business-related decisions, or just mentorship along the way, we'll be here," says Reynolds.
Takeuchi promotes Shay Klusmeyer to divisional manager
Takeuchi-US announced that it has promoted Shay Klusmeyer to divisional manager.
Formerly Takeuchi's Central Midwest regional manager, the company says Klusmeyer will now lead Takeuchi's regional business managers and regional product managers as they support dealers and customers in the company's West, Southwest, Central Midwest and Midwest regions.
"Since joining Takeuchi in 2019, Shay has demonstrated exceptional leadership and relationship-building skills," says Henry Lawson, director of sales for Takeuchi-US.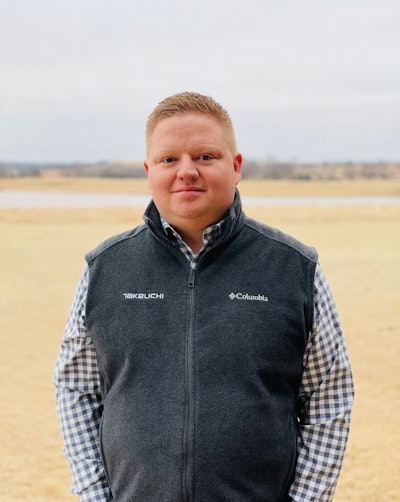 "His enthusiasm and motivation have also served him well throughout his sales career. We're confident in Shay's abilities to lead our business and product manager teams to even greater success throughout their regional territories."
Based in Perry, Oklahoma, the company says Klusmeyer came to Takeuchi in 2019 as a business manager for Western Illinois, Missouri, Kansas, Oklahoma and West Texas. In 2020, after a realignment of regions, he became the regional business manager for the Central Midwest. Before joining Takeuchi, Klusmeyer was a regional business manager for Mahindra Americas where he oversaw the development of various product lines.
"I'm very proud to be a part of the Takeuchi family, and I'm ready to put my skills to work in this new position," says Klusmeyer. "I'm looking forward to sharing what I've learned during my tenure in this industry to help our regional managers continue to provide top-notch support to Takeuchi dealers and customers."
North Carolina Nursery & Landscape Association announces board of directors
The North Carolina Nursery & Landscape Association announced three new members and two new officers for the 2021 board of directors during its annual meeting held online Jan. 21.
Two current board members were promoted to new positions. Leslie Herndon was elected to president and Kevin Cagle was elected to vice president, secretary and treasurer.
Herndon is president of Greenscape, Inc., where she began her career 19 years ago. A lifelong North Carolinian, she graduated from North Carolina State University with a bachelor's in horticultural science. She is a Certified Plant Professional and holds manager and technician certifications from the National Association of Landscape Professionals (NALP).
Cagle has been the owner/partner of Greenthumb Nursery, LLC for 11 years.

A North Carolina native, he is the third generation in his family to operate the nursery. He holds a private pesticide license and a North Carolina Landscape Contractor license.
Three new members have joined the board in different capacities.
Dana Massey will serve a one-year term on the board. She began her career at Plantworks Nursery in 2009 and has been president since 2017. She has an associate degree from Louisburg College and a bachelor's in horticulture science from North Carolina State University. She is a 2016 graduate of the North Carolina Tobacco Trust Fund Agriculture Leadership Development Program from North Carolina State University and a 2020 graduate of Executive Academy for Growth & Leadership from Texas A&M.
Ariel Montanez will serve a three-year term on the board. He has been the general manager of Pender Nursery since July 2013. Born in Puerto Rico and raised in Germany, he served 24 years in the Marine Corps before starting in the industry. He has a business degree from Campbell University and previously served as president of the Johnston County Nursery Association.
Anthony LeBude joined the board as educational advisor. He has been the nursery extension specialist in the Department of Horticultural Science at North Carolina State University for the last 15 years. He moved to North Carolina from Eastern Virginia where he had worked in all facets of horticulture including greenhouse, nursery, landscape and retail garden centers.
Trey Warrick completed a one-year term on the board as a replacement for a promoted member and is now beginning his own three-year term. He has been co-owner of Scottree and assistant manager at Shelby Nursery, Inc. for the past 12 years. He graduated from North Carolina State University with a bachelor's in horticulture science. He has a North Carolina Landscape Contractor license and is an International Society of Arboriculture Certified Arborist. He is a past chair of the North Carolina Urban Forest Council.
Jamie Thomas of Swift Creek Nursery, Clayton, leaves after six years of dedicated service. Jeff Allegood of Old Courthouse Nursery, Warsaw, leaves after three years of service. Dr. Joe Neal of North Carolina State University is leaving as educational advisor after many years of service.
Factory Direct Hose launches new products, massive inventory restock
At the start of 2021, Factory Direct Hose announced that they will now sell their suction hose, discharge hose and garden hose by the foot.
"Many of our customers were coming to us and wanting to be able to customize the length of their hose, '' says Zach Evans, CEO of Factory Direct Hose. "They didn't want to pay for the extra length that they didn't need. In addition to that, the extra length adds unnecessary weight to the hose when lugging it around and also takes up more space when storing. We are excited to announce that now our customers can customize their hose to fit their exact needs."
Factory Direct Hose says it frequently supplies landscapers with garden hose, suction hose, discharge hose and their accompanying camlock fittings. With many of their products being made, cut and assembled in the U.S.A., the company says it is able to provide quick assembly and shipment on customized orders.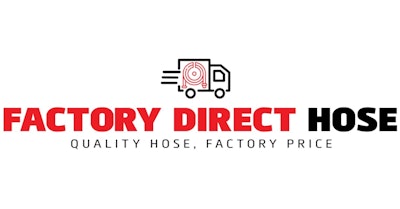 According to Evans, Factory Direct Hose is now one of the only retailers online to sell garden, suction and discharge hose by the foot.
"It's difficult for retailers to offer their hoses to be purchased by the foot," says Evans. "It takes a very large inventory in order to be able to provide that type of service. We are excited to have grown to the point that we can offer this money and space saving option to our customers."
The company also announced that their warehouses are stocked with 9 million dollars worth of inventory ready to be shipped at a moment's notice in preparation for the upcoming fire and flood season.
"First a deadly fire, then a flood," says Evans. "It's a classic 1-2 punch from Mother Nature. Large diameter suction hoses and discharge hoses can be hard to find in stock, especially during fire and flood season. In order to truly be ready for a worst-case scenario, we needed to increase our inventory and have it immediately available for shipment."

The company says the risk of floods after fires increases drastically due to vegetation loss and altered terrain, leaving the ground unable to absorb water. With the 2020 fire season being one of the deadliest on record for the West Coast, the company says many experts fear that intense flooding is all but inevitable in 2021.
"If there was one lesson that 2020 has taught all of us, it is that preparation is essential," says Evans. "As a company, we want to ensure that if we have another record-breaking season, we will not run out of stock of suction and discharge hose. We want to be prepared to deliver essential equipment to those who need it at a moment's notice."
Case launches Case Live, announces new webcast
Case Construction Equipment is launching Case Live — a new broadcast and engagement platform with live events and educational sessions delivering topics that include equipment fleet management, acquisition strategies, new technologies, operational tips and new product launches.
The company says a list of planned events and an archive of events and broadcasts held to date can be found here.

The first official event for Case Live will be a new webcast on Wednesday, February 24 at 10 AM CST held with CNH Industrial Capital titled "Finance Solutions to Help Grow Your Business" — focusing on ways for equipment buyers to wisely invest in equipment and solutions for long-term growth.
Case says topics covered will include advice on loan versus lease; the benefits of bundling additional warranty coverage; how to set up a payment schedule that mirrors business needs; and tips on how to quote more effectively based on expenses.
Those interested in participating can register by clicking here.
The next scheduled webcast — Fluids & Filters to Optimize Machine Performance — will be held March 24 at 10 AM CST. Interested participants can register by clicking here.
"Communication with contractors and owner/operators — and the availability of platforms that encourage discussion on best practices — is more important than ever," says Athena Campos, head of market development, Case. "Our Case Live platform will evolve to co-exist with in-person events in the future so that we can extend our ability to share ideas and information."