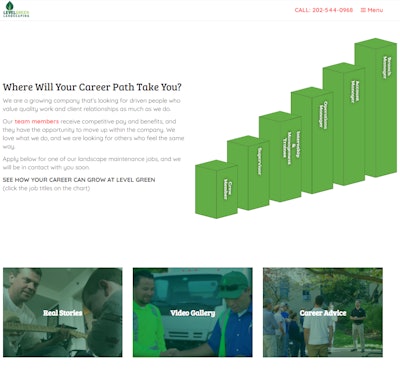 Leven Green Landscaping
It's no secret that the lawn and landscaping industry is facing a labor shortage. Finding and hiring great people comes with a number of challenges. But rather than get discouraged, Level Green Landscaping in Upper Marlboro, Maryland is tackling the problem head-on.
Michael Mayberry, the company's chief technical officer, says that Level Green is taking a multi-pronged approach to attracting talent—and it's all started with their website.
One of the most effective tools that Level Green has implemented has been a Career Center Page that is solely dedicated to information about working at the company. Mayberry says this is not just an ordinary career page with job listings. While it definitely has that it also has real stories about employees, original articles with career advice, and a video gallery that gives potential hires an actual "inside look" into a career there.
Video topics include the Level Green company culture, a day in the life of a crew member, a day in the life of an operations manager, and a day in the life of an account manager.
Mayberry says that representation is important in these videos. People want to see others that look like them. This has been one of their most effective tools in terms of recruiting from a diverse pool of potential hires. That includes persons of color, people from various age groups, and women. A lot of companies talk about wanting to be more diverse in hiring but then they have photos on their website that show people who all look the same. Level Green has made a concerted effort to demonstrate the diversity they have in their workforce.
Team member stories
Without a doubt, attracting new hires by looking at it through the lens of existing employees has been one of the company's best strategies.
"One thing that we're really good at is sharing a lot of personal stories," Mayberry says. "People relate to these. We regularly run blog articles about what it's like to work here and we tell that through the story of someone who already does. That's a lot more relatable than management just telling potential hired what it's like to work here."
Climbing the career ladder
Another important thing that the Career page does is demonstrate the career path that potential hires can follow if they want to grow in their career. This includes an actual chart with job titles—and what each step up could be. The interactive chart gives people an opportunity to see how they can climb the career ladder as well as what skills will be needed for each level.
"In our industry, we've found it rare that a company actually lays out what your career path could look like," Mayberry says. "We've found that it's difficult to attract young people to our industry because we're not telling them where they could end up. Too often young people see this as a temporary stop on their lifelong career path. They might think of landscaping as a summer job while they're in school or while they search for something better. We want to show them that this can be their main career path and that there are a lot of opportunities for growth."
Never stop recruiting
Mayberry says that one of the best aspects of using the company's website for recruiting is the fact that it's doing the work for them "24/7."
"Landscape business owners should always be recruiting," he adds. "It's not just something to do when there's a need. If you find a really great person, it's worth bringing them on even if you don't have an opening at that time. Recruiting must be an active, year-round, 24/7 approach. For us, the Career Center on our website is doing much of the work. It's available to potential hires around the clock and answering questions for them about what it's like to work here before they even pick up the phone or email us. In that way, it's been a great tool and we'll continue to add to it and improve upon it as our needs evolve."