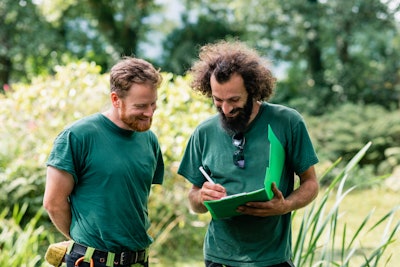 It's no surprise landscaping companies saw record growth in 2020. While social distancing and sheltering-in-place as a nation, home improvement projects became a mainstay — and it makes sense. With more time on their hands and the lack of scenery change, people were in need of something new to look at. Across the board, we saw a tremendous uptick in the number of people who chose to make the most out of their yards.
With that in mind, now is time for landscaping business owners to invest in technologies that will grow their companies and their bottom lines. With the right software tools, accounting and budgeting become strengths instead of liabilities.
Of course, budgeting in the Green industry is notoriously difficult. Work is seasonal, demand can be unpredictable, and staffing is dynamic in nature. All these things make financing — especially through traditional bank loans — tough to secure. Add in the highly competitive nature of outdoor home services, and having money when it's most needed becomes an ongoing issue, especially for small and medium-sized companies.
Fortunately, there are options. These options include government assistance and dedicated small business loans, but more importantly, there are also improved business processes that take the guesswork out of cost control. After all, a cash injection can be a huge help, but it's not nearly as valuable as adopting a long-term solution for budgeting.
A better approach has to be built around accuracy. But "improved processes" doesn't mean more hours spent verifying timecards or staring at spreadsheets. More work is the last thing most business owners have time for in their schedule. To understand how software can be an effective (and easy) solution, let's take a look at the problems it has to confront.
Accurate bidding
The profitability of any project is a function of the initial bid. Bid too much, lose the customer. Bid too little, and you eat the difference. When aggressive competition drives bids down, that makes things even harder. What's needed is clear data surrounding a job's costs. Managers should ask themselves a series of questions when bidding for projects. For example, exactly how long does it take to complete specific gardening and landscaping tasks? Does it differ from one employee to the next? It's one thing to be "pretty sure" about the answers to questions like these, but it's another thing to have hard data. Basing a bid on hard data can separate a profitable bid from taking a loss.
Accurate payroll
There are two big challenges in landscaping payroll accuracy. One is the distributed nature of the work. How do you keep track of what employees are doing on numerous job sites simultaneously? With the sheer number of locations your team is dispersed to throughout the day, this task can feel daunting. It's not that you should expect them to be dishonest, but if you're using old-school methods like paper timecards or text messages, discrepancies can happen.
The other major hurdle is seasonality. Most crews have to beef up their ranks with 1099 employees during the busy seasons in spring and summer — and they often make staffing decisions on the fly due to weather changes. These things make payroll a much bigger challenge than it is for companies who pay a set number of employees the same amount of money every week or month.
Timing
Having access to cost data in real-time, as opposed to days or weeks after the fact, is absolutely critical. Unfortunately, most businesses only have the latter because they're stuck using analog methods. Imagine your team is 75% through the budget, but only 50% through with the work needed. It's obvious a reassessment is needed to make sure you can be profitable.
But by the time they look closely at the figures, the opportunity to re-allocate resources or renegotiate has passed if they're using analog methods. Effective cost control puts owners in the driver's seat with data about what's happening now.
How technology solves these issues
The right software can tackle these challenges. Today, there are a few specialized mobile apps that handle time and location tracking, then feed that data into payroll systems. That time data is also used to provide quick and accurate real-time views of labor costs on each project.
When choosing between potential solutions, there are some things to keep in mind. For example, what's the ease-of-use factor? Was it created with the end-user in mind? The design should be simple and intuitive — not full of small text and endless options.
For business owners who are dealing with the budgeting issues outlined above, now is a perfect time to jump on the bandwagon of tech-enabled cost controlling. While most sectors experienced a dramatic downturn in 2020 due to COVID-19, landscaping and lawn care moved in the opposite direction, and continued growth is expected. Making the most of it starts with leaving old problems in the dust. The grass really is greener on the other side.
Editor's Note: This guest post was written by Nic De Bonis, the CEO of Workyard