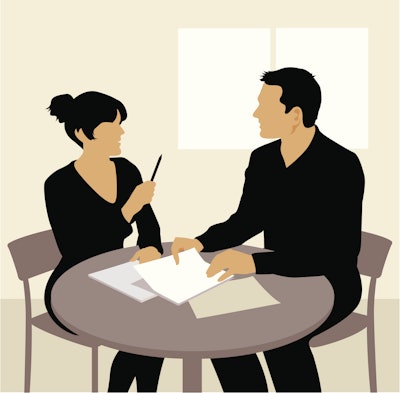 As the cold weather begins to set in, now is a great time for landscaping companies to review their business plans and ensure they're on the track to success. Similar to other trade work, managing a landscaping business requires both a good knowledge of landscaping and running a business.
Here are 6 tips to help you manage your landscaping business and set your next landscaping season up for success.
Estimate jobs accurately
As with any other trade business, managing cash flow is one of the most essential but also biggest challenges for business owners. When creating estimates for jobs, it's important to ensure that enough contingency is built into each estimate to account for unforeseen circumstances and still make a profit. Don't succumb to low ballers and lower your price too much as it could result in your business losing money and running into cash flow problems down the line.
Estimates can be difficult to do, as you risk losing money by quoting too low and risk not winning the job by quoting too high. When creating an estimate, add up the cost of materials, your own hourly rate, the cost for your staff and then add in your profit margin. It's important to remember to include your operational costs as well, such as office, website, cell plan, vehicles and software. While landscaping insurance is part of the fixed monthly expense, it is necessary to prepare for an allowance should possible claims require deductibles or self-insured retentions.
Manage scheduling
Once your business gets going and you start receiving multiple daily inquiries, it's important to plan out scheduling beforehand to ensure that no jobs are forgotten. Choose a scheduling software that works for you and remember to include travel time to all jobs. The last thing you want to happen is to miss a job or email and lose out on a customer.
Keep up with preventative maintenance
As with any other business, preventative maintenance is essential to reducing costs and ensuring that you won't run into problems down the line which can affect your productivity. For whatever equipment you have, conduct constant maintenance on them to ensure that they get repaired as needed and won't break down on you as soon as you need them. This can include vehicles, lawnmowers, skids, trimmers and more. It is highly suggested to invest a Small Business Owners Policy that includes coverage of tools, machinery, and equipment inside the premise in case disasters cause damage to your business assets and property.
Ramp up marketing
Landscaping businesses are in very high demand through the spring and summer. Plan out a marketing strategy you can run through those seasons (and leading up to them). Depending on your business, this could either be through online ads, posting flyers across your area or utilizing social media. Figure out who your ideal customer is and plan out your marketing plan accordingly.
Train and Get Feedback
If you have other staff in your business, it's important to keep them engaged, train them accordingly and give them constant feedback. Good employees aren't going to have all the skills you're looking for, but with a good attitude, hard work and feedback, employees can learn from you and help to expand your business. Your business' biggest asset is always going to be your employees.
If you have employees, it's important to get comprehensive insurance packages in case an accident ever occurs on site, similar to the way other trades have insurance package, such as electricians insurance.
Get GPS tracking
If you have multiple employees who take on jobs by themselves and travel throughout the day, using GPS tracking on company vehicles can be a great way to measure the efficiency of your business and track mileage. You can also use this to track employees' time and spend less time reviewing timesheets.