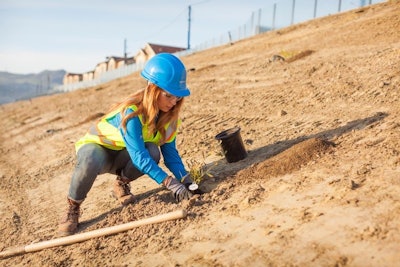 BrightView
Recruiting and retaining more women in landscaping is not something that will just happen. Landscaping companies must make a concerted effort to support the women already employed by their organization if they're serious about hiring more.
That's exactly why BrightView Holdings, Inc., launched the GROW Initiative, which stands for Growth in Relationships + Opportunities for Women. All 1,400 women from BrightView are invited to participate in GROW and it's already made enormous strides in the effort to show that this is a company that wants to see women succeed.
According to Caroline Weilert, BrightView's vice president of marketing and brand management and the co-leader of GROW, the mission is to advocate for the hiring, promotion, and retention of women at BrightView. A big part of that is providing opportunities for women to connect with others through networking. In addition to that, there are professional development opportunities, regional events, and webinars hosted as part of GROW.
"There is also a community service component of GROW through which we've built a partnership with Dress for Success, a global nonprofit organization that provides professional attire for low-income women re-entering the workforce," Weilert says. "This gives us the opportunity to support women within the community at large, too."
Amanda Orders, BrightView's executive vice president and chief human resources officer adds that GROW is a major focus area for the company. BrightView is also committed to investing in their diversity platform, in general, she adds.
How to recruit more women to the green industry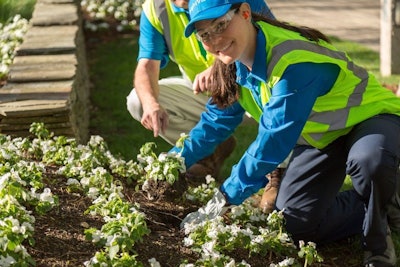 Simply by having this initiative in place, Orders says that it sends a message to potential hires that BrightView is a company that cares about women. The company is hopeful that will play a role in attracting more women to the field.
"Women have so much to add to the green industry," Orders says. "While we already have many women working here, it's important that we showcase this. It can be intimidating for women to step into a role in a male-dominated company, particularly if they don't see any others like them."
Weilert adds that it's not just the visibility of seeing other women—but also seeing women in leadership roles that matters. It's important that potential hires see that there are growth opportunities for them within the company they're considering. Women want to know that they'll be able to climb the career ladder rather than remain stagnant in their roles.
Garnering support from the rest of the team
Of course, in order for any effort like this to be successful, there has to be support from the rest of the team. That includes support from the top, down—as well as support from men within the organization, Weilert says. She says that GROW would not be as successful as it's been without the support it has received from the men within the company. They truly believe in the mission.
"From its inception, our CEO Andrew Masterman has been a huge proponent of GROW," Weilert adds. "He understands the value that it brings to the company as a whole and he has always supported diversity within the organization."
Orders says that any company who is interested in adding more women to their organization can benefit from incorporating a program with some structure—like GROW. It doesn't have to be an enormous effort but having plans in place helps support a certain level of commitment.
Committing to the effort
"A lot of companies talk about wanting to recruit more women, but they don't actually take action and commit," Orders says. "If you're serious about wanting to attract more women to your company, it makes sense to start with the ones that already work there. Are you supporting them? Do they like working there? This is a really important place to start."
Weilert adds that a company's already-employed women are also an excellent resource. They can tell you what attracted them to your company in the first place and why they're still working there. They should also feel comfortable to share areas that can be improved upon. In the end, this can help facilitate positive company growth as a whole.