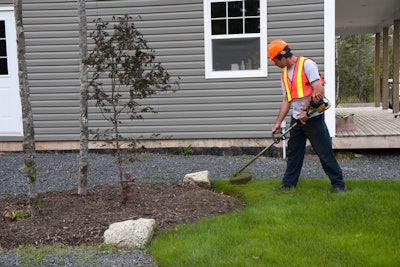 If you're a residential landscaper, then you might feel like other local companies are your greatest competition. But in this DIY age, many residential landscapers also feel that they are competing against their own potential clients. There are some homeowners who want to try and tackle these services on their own—instead of hiring a pro.
Homeowners often perceive DIY landscaping as a way to save money. But if they make mistakes, they could end up costing themselves more money in the long run. That's why it's important for professionals to help steer potential clients away from these mistakes.
We've rounded up some tips that industry pros have shared in regard to competing against DIYers.
Tell them how to do the work
While it might sound counter-intuitive to teach your clients how to perform the very services that you are trying to sell, a lot of landscaping professionals say that they've had a lot of success with this approach. Sharing tips in the forms of articles and videos about how to perform certain services the proper way has a few benefits.
For one, it teaches the do-it-yourself homeowners the correct way to perform a task so that if they really do tackle it on their own, they do it the right way. That means if you start handling that service (or others) for them later, you don't have to go in and fix a bunch of mistakes.
It also positions you as the expert—which is what you want your clients to view you as when they're deciding whether or not to hire someone or do it on their own. If clients aren't getting information from you they might turn to YouTubers or sources who don't know their stuff.
Finally, it also demonstrates how difficult some of these services can actually be—which could set you up for a sale. Once clients understand how involved it really is to fertilize their lawn or to prune plants, they may decide to just hire you instead. By telling them how to perform a certain service, you're also explaining to them that it may be more complex than they realize.
Explain where mistakes are often made
If you're going to give information to a do-it-yourselfer on how to perform a certain lawn or landscaping task, you might also want to share where people commonly go wrong. Again, this is a way that you might subtly turn them off to tackling the service on their own. If pruning a plant at the wrong time of year could end up impacting its flowering—let them know.
You're being helpful by assisting them in preventing mistakes, but you're also educating them on why it's best to leave those services to a professional.
Most people also don't realize what type of equipment or products are actually needed to perform landscaping work. Once you fill them in—along with the potential costs—they might realize it's not worth their investment of time or money when they could hire you.
Winning the hearts of DIYers
At the end of the day, there are always going to be those people that want to first try and tackle a service on their own. Rather than fight them, an educational approach tends to be more effective. It could ultimately turn that lead in your direction.
The truth is, most people think certain services are easier until they really try them—or learn more about what's involved. They also tend to underestimate the amount of time and money involved in a DIY approach.
Plus, even if they don't hire you for the service that you're teaching them about, they might hire you for something else down the road. It's worth trying to work with do-it-yourselfers than against them.