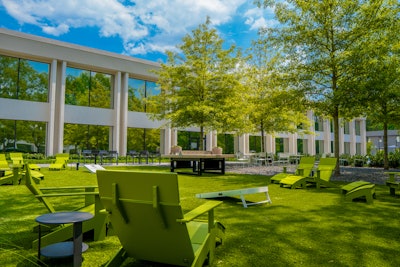 Yellowstone Landscape
One big change that's been ever-present since the start of the pandemic has been the massive surge of interest in usable outdoor space. Whether it's been at HOA communities or other commercial spaces, people are looking to spend more time outside.
Even as normal activities have resumed in indoor spaces, it's been clear that people enjoy—and feel safe—spending time outdoors.
For landscape professionals, this can be an excellent opportunity.
Joseph Barnes, marketing director for Yellowstone Landscape, a national landscaping provider headquartered in Bunnell, Florida, says that oftentimes, commercial property managers are looking at unused areas on their property and want to know how they can transform it into useable space. Yellowstone has been involved in a variety of projects aimed at cleaning up and beautifying such areas.
"We're seeing these open green spaces being used for a number of events like outdoor movie nights, outdoor picnics, food truck events, concerts, or even outdoor meetings," Barnes says. "As HOAs or office complexes look to start hosting more events and activities outside, they need to make sure the space they're using is cleaned up and safe."
That has included getting rid of ants, weeds, and debris—and making sure the turf is regularly mowed.
Community-wide events present new opportunities
As HOA residents and other community members look to spend an increasing amount of time outside, they're eager to participate in organized events. For instance, community-wide yard sales have been hugely popular as an outdoor activity. Many people took the pandemic-related shutdown as an opportunity to organize and clean their homes—and now they're eager to get rid of some of those items.
In addition, community-wide walks or fundraisers are also great outdoor activities and many HOA residents or community members are often excited to participate.
Barnes says that events like these are yet another opportunity for landscape professionals to connect with HOAs and other communities and see how they might be of service. Oftentimes, landscaping tasks can help make these types of events more enjoyable.
"Landscaping services such as lawn mowing, or extra enhancements could be needed ahead of these types of events," Barnes says. "Or clean-up services might be needed afterwards. We've been involved in adding flowers around entryways to be more welcoming to guests—or cleaning up debris after these larger scale events have wrapped up."
Yellowstone also loves to connect with their HOAs by sponsoring some of their events.
"If one of our HOA partners is hosting a large-scale walk or run—or some sort of community-wide picnic, we love being involved," he says. "For instance, we've sponsored treat trucks for some of our HOA partners to show our appreciation for working with them."
The outside is "in"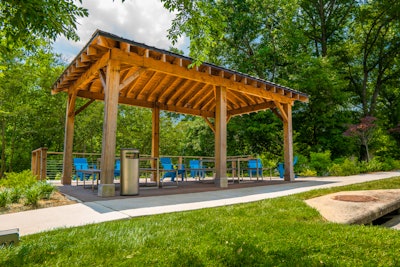 There's no question that outdoor events are all the rage right now. And as more commercial properties look to use their outdoor areas more fully, the opportunities for landscape professionals only continue to grow.
Barnes says that Yellowstone stays closely connected with commercial property managers and HOA board members so that they're aware of any upcoming events.
"We've been impressed by the way that so many of our clients have adapted to these challenging times by moving events outdoors or adding new green space," he adds. "We've been proud to play a role in many of their innovative ideas."