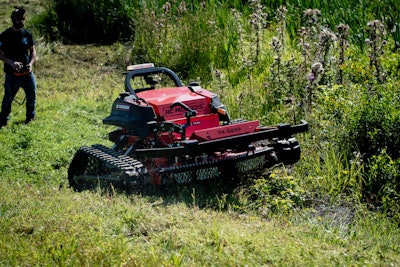 RC Mowers
RC Mowers, makers of remote-operated robotic mowers, today announced it has recently added several new dealers to its already vast network of dealers across the US. The company has recently added Owen Equipment for Washington and Oregon, Jet Vac Environmental for Illinois and Red Equipment for Kansas and Missouri.
These dealers join 23 other dealers around the US, Canada, and Australia that represent RC Mowers remote-operated robotic mowers. The company's robotic mowers are best known for mowing steep slopes, hazardous terrain, around retention ponds and levees, and through thick brush.
With RC Mowers remote-operated robotic mowers in their equipment line-up, commercial landscapers can minimize safety liabilities, add high-value services, reduce labor costs and increase profitability. The mowers are also used by public works departments; city, county, state and federal park systems; and city, county and state road departments.
RC Mowers has more than 25 employees and its dealer network extends the company's personalized customer service by enabling it to address purchasing and servicing requests quickly. The dealers are carefully selected, provided with extensive training, and supported by RC Mowers during the entire sales and post-sales process. All mowers offered by RC Mowers are 100% manufactured and serviced in the USA, have a 30-day buy-back guarantee, and come with a 72-hour parts shipping guarantee.
"Our dealers are an integral part of our business, and we ensure they receive superb training," said Tim Kubista, VP of sales and marketing for RC Mowers. "We are excited to now have dealers to represent our popular remote-operated robotic mowers on the West Coast so that organizations there can more easily purchase them and enjoy the ROI of having them in their fleets."
RC Mowers offers three tracked mowers, and they work in sun, rain and snow, as well as in wet and muddy conditions. A rugged and water-resistant commercial-grade remote control is included with each robotic mower and most operators can learn how to use it in minutes. The mowers have several integrated safety features, are tested regularly, and comply with, or exceed, ISO and ANSI standards.
Platinum Equity to sell Orbit Irrigation to Husqvarna Group
Platinum Equity has announced the signing of a definitive agreement to sell Orbit Irrigation to Husqvarna Group in a transaction valued at approximately $480 million. Orbit will become part of Husqvarna Group's Gardena Division.
The transaction is expected to close before year-end 2021, subject to customary regulatory approval.
Orbit, based in Salt Lake City, Utah, has approximately 300 employees and generates over 95 percent of its revenues in North America. The Orbit product offering includes watering equipment sold through retail, garden centers, e-commerce, and professional channels. In addition, the company's B-hyve suite of smart products helps consumers conserve water, promote plant health, and save money. Platinum Equity acquired Orbit in February 2019.
SavATree announces merger with Northwest Tree Specialists
SavATree, a leading provider of professional tree, shrub, and lawn care has announced a merger with Oregon-based tree care company Northwest Tree Specialists. This broadens SavATree's market in the Greater Portland area.
Northwest Tree Specialists has been a family-operated business providing full-service specialized tree care to residential and commercial properties since 2005. Principals of Northwest Tree Specialists, Trevor, and Jeanine March, along with their dedicated team of ISA certified arborists, field specialists, and office personnel will stay on with SavATree to provide outstanding, personalized local service.
"We know that without our customers, we simply do not exist. That is why we focus heavily on the customer experience. We merged with SavATree while keeping our customers at the top of mind. The philosophy at SavATree perfectly aligns with ours, and we knew that their values and thoughtful environmental approach would continue to benefit our customers even more," said Trevor March.
"Joining forces with an expert tree care company like Northwest Tree Specialists will allow us to focus on serving the needs of Portland Metro area customers while also providing a supportive work environment for employees. We are excited to partner with a company that is accredited through the Tree Care Industry Association and values family, integrity, and commitment," added SavATree CEO, Carmine Schiavone.