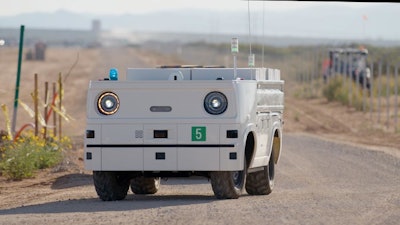 Honda
Honda and Black & Veatch have successfully tested the prototype Honda Autonomous Work Vehicle (AWV) at a Black & Veatch construction site in New Mexico. During the month-long field test, the second-generation prototype of the fully-electric Honda AWV performed a range of functions at a large-scale solar energy construction project, including towing activities and transporting construction materials, water, and other supplies to pre-set destinations within the worksite.
First introduced as a concept at CES 2018 in Las Vegas, the Honda AWV combines the company's rugged and durable off-road side-by-side platform with emerging advanced autonomous technology. The result is a new category of capable work vehicles that can be deployed in a variety of dynamic work environments. The Honda AWV employs a suite of sensors to operate autonomously, using GPS for location, radar and lidar for obstacle detection, and stereoscopic (3D) cameras for remote monitoring. The vehicle also can be operated by remote control.
Black & Veatch, a global engineering, procurement, and construction company focused on construction optimization and technology innovation collaborated with Honda to provide a real-world testing ground to validate the Honda AWV technology at an active construction site. The company's personnel were trained by Honda's engineers on the operation and safety protocols of the vehicles to effectively use the technology in the field. Black & Veatch provided detailed feedback for product and business requirements that will help enhance the Honda AWV's capabilities and services.
"Black & Veatch's pursuit of construction innovation and safety on job sites has led us to this relationship with Honda," said Mario Azar, president of Black & Veatch's global power business. "With our leading market position in solar power, the testing of this new autonomous work vehicle aligns with our focus on advancing the industry through new and innovative ways to work at project sites."
"With our test partner, Black & Veatch, Honda was able to demonstrate the performance of our rugged all-electric Autonomous Work Vehicle prototype in a large-scale construction environment," said Kenton Williams, U.S. project lead for the Honda AWV. "We believe the Honda AWV has the potential to bring greater efficiencies, higher levels of safety and better environmental performance to the construction industry, and to other industries seeking an autonomous off-road solution."
Husqvarna Group and Briggs & Stratton reach settlement
Husqvarna Group and Briggs & Stratton, LLC (B&S) have reached a settlement with regards to the supply of engines for ride-on mowers. Under the terms of the settlement, B&S will provide the majority of the engines needed ahead of the 2022 season. Additionally, the parties have agreed to maintain a modified supply relationship for the 2023 season.
Husqvarna Group had been forecasting a potential 'negative financial impact' over 2022 due to the lack of engines. The company is no longer anticipating that loss, while the lawsuit against B&S has been withdrawn.
"We have achieved a satisfactory outcome that allows us to secure products for our customers in 2022," said Glen Instone, acting president, Husqvarna Division, and CFO Husqvarna Group.
SiteOne University to host educational courses
SiteOne University has announced educational courses in business, irrigation, hardscaping, pest management, agronomics, and golf, as well as a supplier expo for participants to learn and network. This event will be hosted on November 30 from 11 am to 6:20 pm, eastern, as a virtual event.
Landscapers should plan to register online by November 29 at: https://www.siteone.com/en/events/national-virtual-university.