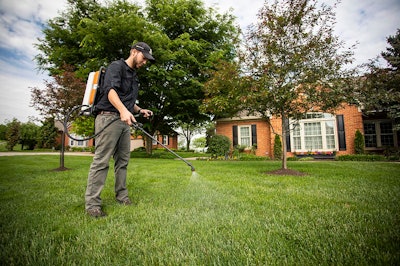 Oasis Turf & Tree
These days, finding labor has become harder than ever. But Oasis Turf & Tree in Loveland, Ohio has always put a strong emphasis on training and that has helped them to be successful in finding great team members, even at a time when hiring has been difficult.
First and foremost, according to company founder and owner Rob Reindl, they have never been overly caught up on previous experience. New hires do not necessarily need to have any previous Green Industry experience. In fact, the company has had great success hiring from other industries including call centers, and even from within the hospitality industry.
Reindl says that they have always been more interested in skills that can't be taught like work ethic and willingness to learn.
What makes this possible is that Oasis Turf & Tree has an incredibly robust training program. While a lot of companies talk about training, it's something that Reindl says they take incredibly seriously and goes far beyond the state-required "bare minimum." In Ohio, lawn care technicians only need to complete a day of "service person training," in which best practices are reviewed. In addition, the state only requires that one person in a lawn care company hold an application license, and others can work under that technician. But Oasis has set an internal goal of getting all lawn care technicians licensed, even though they don't "need" to be.
"We aim to have technicians earn their license within 90 days of employment," Reindl explains. "As soon as someone is hired, they start working toward that goal."
Experience is not a necessity
Because Oasis is so focused on training, previous experience is not a prerequisite for the job. In fact, Reindl says it's sometimes easier to train someone who has no industry experience, particularly if they were not taught things the right way. It's harder to "untrain" bad habits than to start fresh.
"Even if someone comes in with experience, they should still expect training," Reindl says. "Everyone starts new here. We want new team members to learn our processes and systems. That's why a willingness to learn is more important than coming in with previous knowledge."
In addition to asking team members to earn their applicator's license, Reindl says that they also encourage team members to work toward certification from the National Association of Landscape Professionals (NALP). When they do earn these additional certifications, they receive a pay raise.
Providing opportunities
Reindl says that the company's focus on training and certifications comes down to wanting to provide "opportunities" for team members.
"We have found that the team really appreciates the opportunity to further their knowledge and ultimately advance their career as a result," Reindl says. "In other roles, they have felt 'stuck' but here at Oasis we want our people to know how important their success is to us."
That also means providing opportunities for climbing the career ladder.
"Our team members have a career path that they can follow if they want to continue to advance within the company," Reindl says.
This is important as one solution to the current labor crisis is for companies to turn the focus toward retention. Oasis has always been committed to promoting from within the company and retaining long-term hires.
"It comes down to setting our team up for success," Reindl sums up. "Though the lawn care industry has been known to have a lot of turnover, we have found that by really focusing on training and giving our team members opportunities to advance within the company, that we have been able to build a company with a lot of long-time team members."