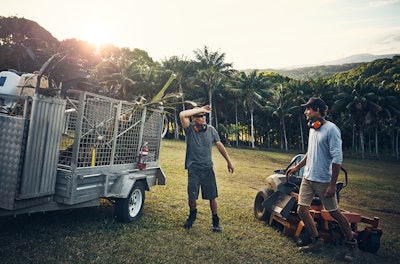 There's no question that we are in a very volatile marketplace right now. Inflation is at a 31-year high, the supply chain is in crisis, and material availability remains uncertain. For these reasons, industry veteran Fred Haskett, principle partner with TrueWinds Consulting, says that lawn and landscaping businesses must pin down a pricing strategy for 2022. In fact, he and fellow Green Industry veteran Beth Berry are hosting a virtual seminar on December 14 on this very topic.
"Many of my clients have never been through an inflation spiral before so these are stressful times," says Haskett. "But a situation like this calls for a new approach. This is not the time to be status quo. Many lawn and landscaping companies say they always add a two or five percent increase every year or every other year. Well, this is not the year to do what you've always done."
Haskett says that lawn and landscaping companies that don't increase their prices enough for 2022 are going to wind up in trouble. The supply chain problem is real and it's going to impact our industry into 2022 and beyond.
"Business owners should be talking to their suppliers about what they anticipate their prices and availability will be," Haskett says. "They need to look at their financials and be able to accurately project what they need to raise their prices to in order to maintain gross margins. This is not the year to pick an arbitrary number—it must be based on data."
Price increases will be a necessity in 2022
Proactive companies who start thinking about these issues now are going to fare best. Many suppliers have already put out warnings that they expect their prices to increase. While lawn and landscape business owners are notorious about putting off price increases, most customers do understand that costs are rising all around them.
According to Haskett, there are some ways to raise prices without completely shocking customers. The best strategies include budget billing and bundling services. These approaches will be discussed in the upcoming seminar.
"We'll cover how you can accurately assess what your price increases should be and how you can mitigate the perception of these increases from the customer's perspective," Haskett says. "On the commercial side, many lawn and landscaping companies have been employing these billing cycle strategies for decades, but many residential lawn and landscaping companies are new to it."
Industry professionals who are interested in taking a deep dive into pricing strategies can sign up for the seminar by clicking here. The cost is $395 and the session goes from 10 am until 2 pm