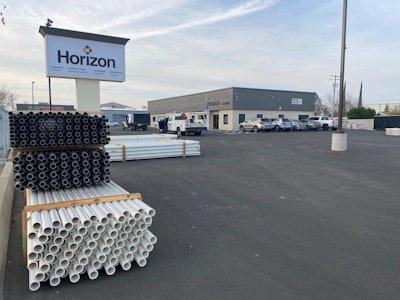 Horizon
Horizon Distributors, Inc., ("Horizon") a full-service irrigation and landscape maintenance products wholesale distributor, announced three new stores opening Q1 2022. Horizon Clovis in the fast-growing San Joaquin Valley, opened February 1, and marks the 16th store in Northern California. Two additional new stores will open in March in Tampa and Naples, FL, tripling the number Horizon branches in Florida in just over a year.
Horizon Clovis is strategically positioned in the growth area around the Fresno airport, close to both Hwy 180 and 168. Landscape professionals will find a well-stocked selection of landscape and irrigation supplies, as well as a substantial inventory of hardscape and outdoor living products. In West Florida, irrigators familiar with TWC Distributors (Horizon's latest acquisition) will be introduced to Horizon's broad product mix that includes Echo 2-cycle equipment, hardscapes, TurfGro fertilizer, and outdoor lighting products from several major brands.
"This is a very exciting time at Horizon Distributors," said Jeffrey Clay, Horizon President. "We plan on adding new stores across our entire footprint this year. It's aggressive, but we realize that it's through organic growth that we are able to create new opportunities for our entire Horizon team."
Altoz finalizes plans to expand its facility
Outdoor power equipment manufacturer Altoz, Inc. said it has finalized plans to expand its facility in Red Lake Falls, Minn., to accommodate the company's growth. A new 62,500 sq. ft. facility is scheduled to be completed by this fall and is the first phase of a multi-phase expansion project that will bring the company's combined building space to over 400,000 sq. ft. between the Red Lake Falls and Greenbush, Minn., locations.
Altoz said the investment and decision to expand its facility in Red Lake Falls was a logical step in the company's strategic growth plan to increase capacity and improve operational efficiency. The new manufacturing facility will accommodate advanced metal fabrication equipment including laser cutting systems, turret presses, press brakes, and robotic welders, along with a powder coat paint system, assembly, and a distribution center.
"This expansion will allow us to meet the increased demand for our commercial mowers and continue to diversify into other segments of the outdoor power equipment industry," said Dennis Brazier, Altoz CEO. Along with the manufacturing space, the site will incorporate a multistory office building that will accommodate a growing workforce.
BrightView acquires NatureScape
BrightView Holdings, Inc., has announced the acquisition of NatureScape LLC, a landscape maintenance and development company headquartered in Phoenix, Ariz. Terms of the transaction were not disclosed.
"With the addition of NatureScape we expand our reach in Maricopa County, a key evergreen market," said BrightView President and Chief Executive Officer Andrew Masterman. "NatureScape's commitment to client service, quality execution and safety mirrors ours and we couldn't be more pleased to welcome this exceptional team to the BrightView family."
NatureScape is a full-service commercial landscape company serving clients across the Valley of the Sun. The company has 110 team members, including experts in grounds maintenance, irrigation management, landscape installation, and arbor care. NatureScape clients include homeowners' associations, property managers, and commercial sites.
"With this transaction, I believe BrightView got stronger, and I know NatureScape employees now have opportunities that are greater than we could have given them yesterday," said NatureScape owner Brian Smith. "Our clients are also big winners. The resources and systems BrightView brings to the table will only enhance the quality and relationships we have been able to build."