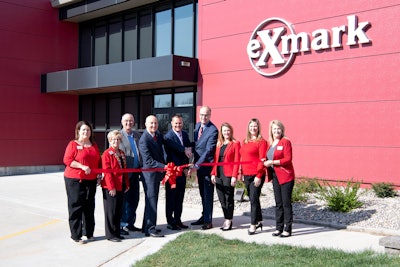 Exmark
After a nearly two-year wait, Exmark hosted a ribbon-cutting and open house at its new corporate headquarters in the Beatrice Industrial Park. The facility was finished in late 2019; however, the public celebration took place today in conjunction with Exmark's 40th Anniversary.
Exmark Vice President, Daryn Walters, said the new facility is where Exmark will develop the innovations that will drive the green industry forward today, tomorrow, and in the future.
"Exmark was incorporated 40 years ago in May, so it seems fitting that we're unveiling our new facility today," Walters said. "To see how this company has grown, from just a handful of innovators with a dream in 1982 to the incredible organization we have today, it's a beautiful thing. A true American success story and I'm grateful for everyone who has had a hand in Exmark's success."
The event hosted a number of notable local and state leaders, including Nebraska Governor, Pete Ricketts, Nebraska District 30 State Senator, Myron Dorn, and Beatrice Mayor, Stan Wirth. The Toro Company President and CEO, Rick Olson also spoke at the event, as did Matt Hills, vice president of construction for the Ryan Companies, the building contractor for the new facility.
Following the ribbon-cutting ceremony, guests were invited to participate in guided tours of Exmark's new facility.
Vaillancourt Tree-Landscape Service, Inc., joins Davey Tree
The Davey Tree Expert Company has announced the addition of Vaillancourt Tree-Landscape Service, Inc., of Pittsford, Vermont, to its family of brands.
Vaillancourt will be joining Davey's Eastern Utility service line. Vaillancourt provides utility line clearance services throughout Vermont, in addition to quality residential and commercial tree services in the area surrounding Rutland, Vermont. Vaillancourt has been in business for almost 50 years and has approximately 24 employees who will all continue employment with Davey Tree.
"The merging of Vaillancourt Tree-Landscape Service into the Davey family will be of great benefit to Vaillancourt clients and employees," said Jon Leonard, president, and co-owner of Vaillancourt. "Vaillancourt will now have the ability to support our clients with a greater range of services including the Davey Resource Group's consulting services, storm response crews, and the Davey Institute, which is a leading diagnostic and research facility dedicated to keeping its clients' trees and landscapes healthy."
Sam Drake, vice president and co-owner of Vaillancourt, said Davey's employee-owned status was also a contributing factor in their decision to join. "As an employee-owned company, Davey will provide Vaillancourt employees with the opportunity to own a share of their company, providing our employees with financial benefits for years to come."
Central Turf & Irrigation Supply has acquired Irrigation Supply
Central Turf & Irrigation Supply has announced the acquisition of Irrigation Supply Inc., with two locations in Ohio; serving Columbus, Cleveland, and the surrounding areas. The two newly remodeled Ohio locations will offer a more robust, full-service experience for local green industry professionals with expanded hours plus being open six days a week in season.
In addition, customers will have access to more products and categories, the largest selection of in-stock inventory, hundreds of leading manufacturer brands, and services such as same-day delivery, business, and marketing resources, and category subject matter experts for onsite training and troubleshooting.