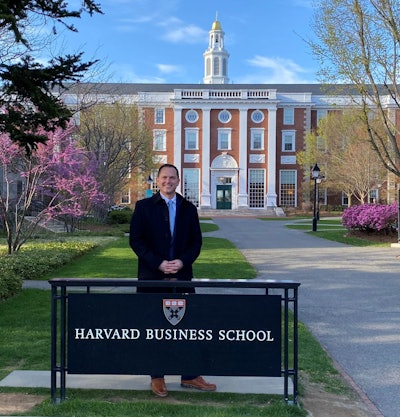 Green Lawn Fertilizing
Green Lawn Fertilizing / Green Pest Solutions Senior Vice President of Operations, Josh Willey, successfully completed Harvard Business School's General Management Program (GMP).
Focused on strategy, leadership, and the organization, the program delivers the tools needed to capitalize on technological disruption and digital transformation, while playing a more strategic role in corporate success.
President and Owner, Matt Jesson could not have been happier to announce Josh's successful completion of the program.
"I want to take this opportunity to congratulate Josh Willey for his incredible hard work and personal sacrifice over the last 4+ months from graduating Harvard Business School's GMP Executive Program," Jesson said. "All of us at Green Lawn and Green Pest are so happy for you and you're amazing achievement!"
During his time in the program, Willey competed in the General Management Program's strategy finals and was selected as one of three winners out of over 110 fellow HBS students. The final month was spent living on the Harvard Campus in Boston, where Willey was both inspired and challenged by his classmates.
"I am overwhelmed with gratitude for the opportunity to learn from the best at the Harvard Business School," Willey shared. "Surrounded by 110 leaders from 37 countries and industries widened my perspective and challenged my views. I look forward to staying connected as we step back into our careers."
Willey will now transition back into his role as Senior Vice President of Operations at Green Lawn Fertilizing and Green Pest Solutions. He will bring with him countless takeaways from his four intensive months in the program in order to improve the companies already stellar service and team member experience.
NALP announces 2022-2023 Board of Directors
The National Association of Landscape Professionals has announced its Board of Directors slate for 2022-2023; terms begin September 18. Mike Bogan, CEO of LandCare, will serve as association president. New members of the Board include Jennifer Jorge, Chris Lee, and J.T. Price.
Here is the complete 2022-2023 NALP Board of Directors:
Officers:
President - Mike Bogan, LIC, LandCare
President-Elect - Brandon Sheppard, Weed Man
Secretary/Treasurer - Pam Dooley, Plants Creative Landscapes
Immediate Past President - Bob Grover, LIC, Pacific Landscape Management
Directors:
Bruce Allentuck, Allentuck Landscaping Co.
Maurice Dowell, LIC, Dowco Enterprises Inc.
Lisa Fiore, LandscapeHub, Inc.
Paul Fraynd, LIC, Sun Valley Landscaping
Ivan Giraldo, Clean Scapes
Claire Goldman, R&R Landscaping
John Guth, Green Lawn Fertilizing, LLC
Jennifer Jorge, King Green
Phil Key, Ruppert Landscape
Roscoe Klausing, LIC, Klausing Group, Inc.
Chris Lee, Earthworks, Inc.
William MacMurdo, Bayer
Tim Portland, LIC, Yellowstone Landscape
J.T. Price, Landscape Workshop
Chris Senske, Senske Services
Yanmar launches website dedicated to compact equipment
Yanmar Compact Equipment North America has launched a new website dedicated to its lines of compact equipment. The site comes as one of many new investments Yanmar is making in the North American market and corresponds to the company's initiative to adopt a customer-focused approach in every facet of its business.
"Our main goal with the website was to provide a rich customer experience," said Regan Meyer, marketing manager for Yanmar Compact Equipment North America. "This aligns closely Yanmar's strategy to transform how we create value for and build relationships with customers."
The new website makes it fast and easy for users to find information on the Yanmar brand and the compact equipment products offered in North America. It requires fewer clicks to reach product and industry pages, and the intuitive layout makes it simple to locate desired information, in addition to improving the site's visual appeal.
Practical features add more usability to the site. A new Build & Price tool allows users to customize a machine with the configurations they are most interested in. They can then submit the configuration and be contacted by a dealer with a quote. Site visitors can also visit the News page to stay current on the latest updates from Yanmar Compact Equipment and read helpful articles. Users can sign up for Yanmar's newsletter to receive news and updates directly in their inbox.
See the new website at www.YanmarCE.com.