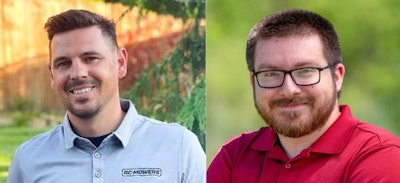 RC Mowers
RC Mowers, a manufacturer of remote-operated robotic mowers, announces the hiring of several new employees as demand for the company's remote-operated robotic mowers grows and the company continues to add new dealers throughout the country.
"These new hires are a testament to the abilities of our product and the anticipation of our future product lines," said Tim Kubista, vice president of sales and marketing for RC Mowers. "We are seeing sustained interest from both commercial landscapers and from public works departments. Their positive reaction to our mowers, along with the continued expansion of our dealer network, has made these new hires a necessity to meet demand."
Along with several new production, operations, purchasing, and marketing team members, RC Mowers has notably hired Matthew Bries as its senior robotics engineer and Bryan Johnson as its regional sales manager based in the Pacific Northwest.
Bries has a bachelor of science in electrical engineering, worked for several years as a research engineer at Southwest Research Institute in San Antonio, Texas, and has extensive experience in robotics technology. He will continue his work in autonomous vehicle development at RC Mowers.
Johnson comes from an extensive career in the automotive industry. He has experience in sales, operations, project management, customer service and team building, including a 15-year career at Discount Tire, the world's largest independent tire and wheel retailer.
The company has been traveling throughout the United States on an extensive Great American Road Show to demonstrate its remote-operated mowers to dealers and potential customers. The success of this tour has resulted in sales growth that has exceeded projections. The company also broke ground on a new $4.8 million manufacturing facility near Green Bay, Wisconsin, earlier this year.
"Our founders saw a need to solve the very real and ongoing problems of labor shortages and safety concerns in the landscaping industry," Kubista said. "Because we are efficiently addressing our customers' need to offset these industry shortfalls, we are continuing to grow at a rapid pace. We wish Matthew, Bryan and our other new employees continued success as we work together to redefine the business of mowing."
Ruppert Landscape welcomes Jon von Staden
Ruppert Landscape
Ruppert Landscape is pleased to announce the addition of Jon von Staden as director of finance and administration in the company's landscape construction division. In this role, he will be working in close partnership with local branch teams and division leadership to further develop best practices and help capitalize on efficiencies.
He holds a bachelor's degree in accounting from Frostburg State University and has over 26 years of general contracting experience, most recently serving as controller.
"We are looking forward to Jon applying his vast general contracting knowledge and accounting acumen to help us improve financial performance in the division," said Bob Jones, president of Ruppert's landscape construction division.
"I'm excited to join the Ruppert team and learn everything I can about this great company and culture to assist in helping it grow and improve more effectively and efficiently," said von Staden.
Ruppert Landscape, a family and employee-owned business, has been a provider of commercial landscape construction and management services for nearly 50 years. Headquartered in Laytonsville, Maryland, the company employs over 2000 people and serves customers from 30 branches in eight primary markets: Philadelphia, Baltimore, D.C., Richmond, Raleigh, Charlotte, Atlanta, Nashville, and Houston. The company has a long-standing tradition of growing its team and giving back to the community. Learn more at www.ruppertlandscape.com.
Matt Jesson of Green Lawn Fertilizing/Green Pest Solutions named Entrepreneur of the Year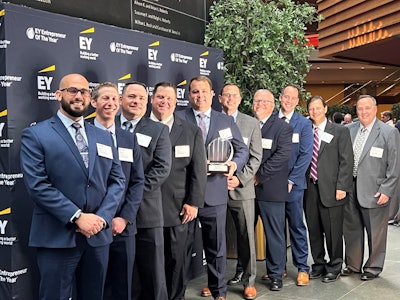 During their annual awards dinner, Ernst & Young LLP (EY US) announced Matt Jesson (President and CEO) of Green Lawn Fertilizing / Green Pest Solutions as an Entrepreneur Of The Year® 2022 Greater Philadelphia Award Winner. Entrepreneur of The Year is one of the preeminent competitive business awards for entrepreneurs and leaders of high-growth companies who think big to succeed.
Matt Jesson was selected by a panel of independent judges according to the following criteria – entrepreneurial spirit, purpose, growth, and impact – among other core contributions and attributes.
"I'm very blessed to work with such an incredibly passionate team, that truly cares about our team members and customers," said Jesson.
Jesson has been an entrepreneur since the age of 12, when he started his own neighborhood lawn cutting business in Havertown, PA. He ran that business all the way through his early twenties until he transitioned the business from Jesson Landscaping into lawn care with the founding of Green Lawn Fertilizing in 2004. Jesson started another business in 2012 with the establishment of a dedicated pest control brand, Green Pest Solutions.
Green Lawn Fertilizing / Green Pest Solutions has grown to over 50,000 residential customers, over 250 team members, and over $30 million in annual revenue. Its mission is to be the leader in the lawn and pest industry by delivering a superior customer experience.
The regional winners will now be considered by the National independent judging panel, and National awards will be presented in November at the Strategic Growth Forum®, one of the nation's most prestigious gatherings of high-growth, market-leading companies. The Entrepreneur Of The Year National Overall Award winner will then move on to compete for the EY World Entrepreneur Of The Year™ Award in June 2023.