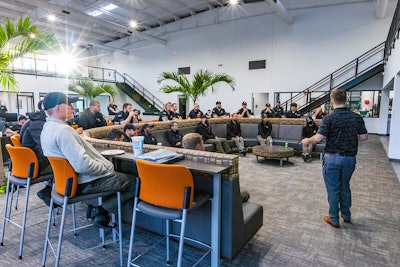 Oasis Turf & Tree
In this DIY world, many of your clients might have considered handling their lawn care on their own. But there are good reasons why DIY lawn care can sometimes be a mistake. Rob Reindl, owner of Oasis Turf & Tree in Loveland, Ohio, says that clients sometimes tackle lawn care on their own because they take pride in the work or view it as a way to stay active. But the main reason that clients might take lawn care into their own hands is to try and save some money, and this isn't a great reason.
That's because DIY lawn care often leads to mistakes or subpar results.
Reindl shares a few pointers for talking to clients (and prospective clients) about DIY lawn care and why it might be a bad idea.
Subpar results
Clients often assume that they'll be able to achieve the same results as a pro with DIY lawn care. But Reindl says that he explains to clients that they are at a disadvantage with equipment and often store-bought products. Most of the time, these items won't be able to deliver the high-quality, professional results that people desire.
Along with that, clients need to understand the value they get by investing in a trained professional. Reindl says that they talk a lot about their training and education process so that people can understand they're also investing in the people who perform the work when they hire a pro. Someone who is trained in lawn care is going to be able to do a better job than your average customer.
Hidden lawn care costs
Reindl says that it's also helpful to talk to clients about the hidden costs that are sometimes associated with DIY lawn care. Without a trained professional performing the work, there's a lot that can go wrong. Oftentimes, a simple mistake (like over-fertilizing) can lead to damage that needs to be fixed. And this can be a lot more costly than just having a pro handle the work in the first place.
It's also important for clients to realize that the costs associated with DIY lawn care aren't exactly cheap. They still have to invest in equipment and products, and that can start to add up. Trips back and forth from the hardware store also mean spending gas money. Reindl says that when people start to really think about how much of an investment DIY lawn care can be, hiring a pro suddenly doesn't seem that much more.
Giving up time
Finally, Reindl says that they also talk to people about the fact that lawn care is time-consuming. Suddenly, homeowners have to spend their free weekends working on their lawns. Multiple trips to the store, working around the weather, and even clean-up and material storage can all be frustrating (and eat up a lot of time). Instead of having to deal with any of this, clients can hand it all over to a pro.
Communicating the message to clients
These days, lawn care companies are not only competing against other lawn care companies but also do-it-yourselfers. But lawn care pros can communicate to their clients (and prospects) that there are reasons it may not make sense. Reindl says that they use blog articles and even just conversations with their clients to convey this message. At the end of the day, they don't want to see people disappointed by taking a DIY path.