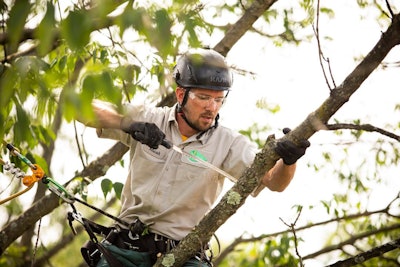 Joshua Tree Experts
Safety must always be a top priority in the tree care industry. When you have crews operating heavy machinery and climbing trees, it's imperative that they are well-trained and implement safe practices.
But tree care safety doesn't happen on its own. It has to be part of a larger effort. Everyone at your tree care company must embrace and prioritize safety.
Here are a few tips on how to make that happen.
Communicate regularly about safety
At Joshua Tree Experts, we make safety a regular topic of conversation. Every department, every week, has a safety tailgate meeting where we go over a particular safety topic. For instance, right now (in the summer), we're talking about heat stress and encouraging crews to take breaks and stay hydrated. In the summer, we also talk about how to treat bee stings or deal with a bee sting emergency.
Encourage crews to report close calls and accidents
If crews experience a close call, they might be reluctant to report it. After all, even though it was close, nothing actually happened. But we insist that crews talk to us about those close calls (and also any actual accidents that occur). These become learning experiences. In addition, if we see that a certain type of close call is happening more than once, it shows us that this is an area where additional training is needed.
It's important to encourage open communication with crews so that they report this type of information. We even revisit safety incidents from time to time to keep information fresh in everyone's minds. The goal is to prevent these incidents from occurring again.
Reward crews for safe practices
We have also found that a reward system for safety has been motivating. Crew members can collect points when safety practices were followed. They can then cash those points in for Joshua Tree merchandise. We're aware of other companies doing similar programs, giving out safety bonuses and other types of rewards. The idea is to somehow acknowledge that you see crews are being safe.
Invest in your team's safety
Finally, there is obviously the need to properly invest in the team to ensure their safety. Crews need to be properly outfitted in the right gear. They also need properly functioning equipment. If equipment is not functioning properly, crews need to be confident about speaking up and management needs to take quick action.
Another way to invest in safety is with training. Time, energy, and dollars need to be put into a strong safety program.
At the end of the day, this is all about building a culture of safety. It's an effort that must come from the top, down. While owning a tree care business can be a busy endeavor, you must take the time to prioritize safety.