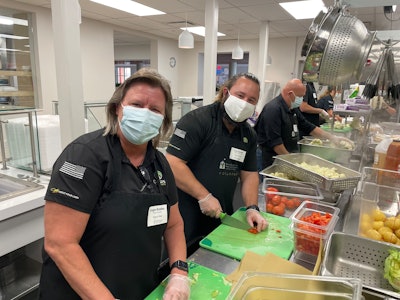 Oasis Turf & Tree
Oasis Turf & Tree in Loveland, Ohio recently spent the day volunteering at the Ronald McDonald House Cincinnati, preparing meals for families. This has been an ongoing volunteer opportunity and is a way that the lawn care company feels they can give back to the local community, says Adam Zellner, vice president of sales for Oasis.
According to Zellner, Ronald McDonald House Cincinnati provides a home for critically ill children and their families while they get the life-saving medical care that they need.
"We volunteer to prepare a meal for the house guests in the kitchen," Zellner shares. "This includes salads, pork chops, grilled turkey and swiss sandwiches, cauliflower, and fingerling potatoes. This year we served roughly 200+ people."
Because of their size, the Oasis team spits into a few groups over a number of days so that everyone in the company gets a chance to participate. This also helps maximize their contribution.
Finding ways to give back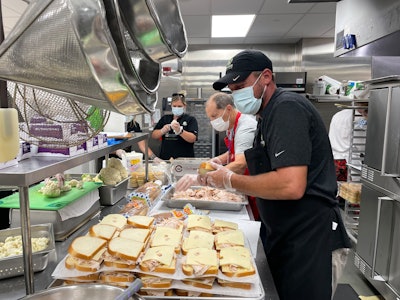 In general, Oasis loves finding ways they can get involved at the community level and give back. They've had lawn care technicians volunteer their time at the Dayton National Cemetary and they've hosted events and activities to raise money for various charities. For instance, they matched the amount of money raised by selling softballs for a dunk tank to donate to The Wounded Warrior Project, a nonprofit organization that assists veterans and active duty service members.
"We involve our team as much as possible when we participate in events or even when we donate to charitable organizations," Zellner says. "We have a committee that oversees our charitable giving so that it is truly a team decision where our money goes."
Zellner says that team members have always expressed that they enjoy having the opportunity to get involved on a local level. In fact, many team members go off and donate their own time and energy to community events and charities. These types of opportunities have been beneficial and inspiring for everyone.