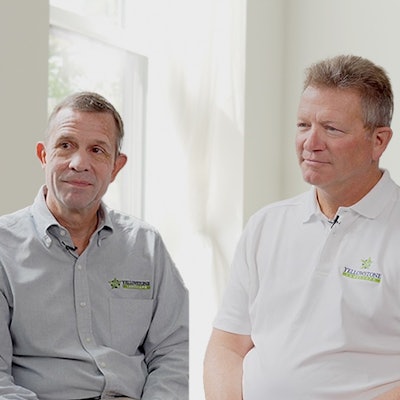 Yellowstone Landscape
Yellowstone Landscape has announced the promotion of Harry Lamberton to the role of chief executive officer (CEO) and Timothy Sherman to the role of chief financial officer (CFO). Tim Portland (former CEO) is moving to the role of executive chairman.
The company says that this was part of a long-term plan for the company's continued growth and success.
Lamberton says that he spent the last 30 years in the waste business and that the two industries have many similarities. He adds that he has a passion for service industries.
To see a video from Yellowstone with the full announcement details, click here.
BrightView announces CEO transition
BrightView Holdings, Inc., a commercial landscaping services company, has announced Andrew Masterman will step down from his role as president and chief executive officer (CEO) and member of the Board of Directors, effective May 31, 2023. Jim Abrahamson, who has served on BrightView's Board since 2015, will serve as interim President and CEO until a successor is in place. Masterman will serve as an advisor for one month to ensure a smooth transition. The company's Board of Directors has initiated a search for a successor in partnership with a leading executive search firm.
"On behalf of the Board and entire BrightView team, I want to thank Andrew for the contributions he has made to the Company," said Paul Raether, chairman of BrightView's Board of Directors. "Today, BrightView is the leading commercial landscape design and services company with a recognized brand and high-quality team. Its market-leading position provides a solid foundation for future growth and creates a unique opportunity to enhance service for customers."
Masterman joined BrightView in 2016 and successfully led the company's initial public offering in 2018. Under his leadership, BrightView demonstrated growth through a series of strategic acquisitions, modernized its technology and finance infrastructure, professionalized the sales organization, expanded omni-channel marketing capabilities, and achieved the best safety record in the company's history.
"It has been an honor to serve as BrightView's CEO and I'm proud of what the team has accomplished during my tenure. Together, we've built a top-tier organization with an expansive national footprint," said Masterman. "I look forward to working with Jim to ensure a smooth transition and will continue to watch BrightView's progress and future success."
Bartlett Tree Experts announces new senior manager of equipment
Bartlett Tree Experts has announced that Matt Losey has been named senior manager of equipment. In his new role, Losey gains the responsibilities previously managed by Rich Mitchell, who will retire at the end of the year.
Losey began his career with Bartlett in 2012 as an Arborist Ground Person in Hilton Head, South Carolina. Since then, he has held several positions within the company; most recently as a regional safety manager (RSM).
"We are fortunate to be able to promote Matt from within the Bartlett ranks because of his intellectual knowledge of equipment, safety, technology, and associated processes," Jim Ingram, president and chief operating officer said.
Tech savvy and passionate about systems, Losey brings significant field experience to his new role, thanks to the experience he's gained with Bartlett Tree Experts as a Climber, Crew Leader, Arborist Representative, Local Office Safety Coordinator, and RSM.
"During his tenure with Bartlett, Matt has proven himself to be a committed Company advocate. Matt's experience gives him an overall understanding of the intricacies of Bartlett and will help him to navigate through the challenges our Company faces as we continue to grow and expand our business," said Chief Financial Officer Carol Donnelly.
Losey is an ISA-certified Arborist, Certified Tree Care Safety Professional (CTSP), and a certified Associate Safety Professional (ASP) through the Board of Certified Safety Professionals (BCSP). He is a four-time Bartlett Champion and served on the President's Council in 2019. He holds a degree in business from Monmouth University and a degree in forestry from the State University of New York (SUNY) College of Environmental Science and Forestry (ESF) Ranger School.