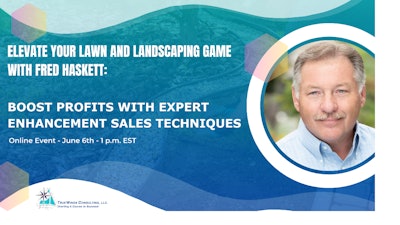 No matter what your business focus is (design/build, maintenance, lawn care, or pest control), one of the best ways to boost profitability is selling enhancements or add-on services. According to veteran industry consultant Fred Haskett of TrueWinds Consulting, these extra sales are "where you will capture your serious gross margin profitability and ultimately your net profitability, too." But he says that not all companies are well-versed at doing this. That's why he's hosting an upcoming seminar on the very topic. He recently chatted with us about that seminar and what landscapers can expect to learn.
According to Haskett, base contracts and programs are almost always sold competitively in order to capture the work. These don't always come with a ton of profit because they need to be so competitive. However, where companies can really grow the business is by selling additional work to that existing client base.
"One of the biggest objections I hear is that companies worry they're nickel-and-diming the customer," Haskett says. "But your clients want those extras. In fact, they're expecting you to tell them what else they need. And in the end, you are helping them get better results. If you don't tell them about extra services you can offer, and they hear about them from another company, you actually risk them asking why YOU didn't tell them."
Haskett says that in his upcoming webinar, Boost Profits with Expert Enhancement Sales Techniques, he'll go over how to sell this highly profitable work in a way that will pique the interest of the buyer. He says whether you're someone who does commercial or residential work, there are some techniques to follow. Understanding the best approach can definitely help you make a sale.
"There are definitely companies out there that are missing these opportunities," he says. "We'll talk about how to look for them and then how to approach clients about them in a way that will be successful."
Haskett says that selling extras not only boosts profitability but also helps build retention. The more that you're doing to take care of the client, the more difficult it will be to just replace you.
This free webinar will be held on June 6th at 1 pm eastern. Those who wish to participate can sign up here.