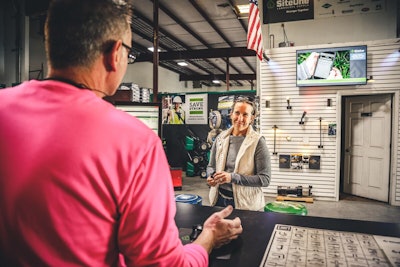 SiteOne
SiteOne Landscape Supply announced its partnership with Automated Outdoor Solutions (AOS) to expand SiteOne's robotic mower product offerings and create a robust national model to provide aftersales and service support, installation, and financial solutions for robotic turf care equipment.
"We are excited to build a great robotics program with AOS," said Nick Schomer, director of category management, equipment, at SiteOne. "Their service and installation expertise will put SiteOne in a position to lead the market in the robotics lawncare space."
AOS supports automated mower brands such as ECHO Robotics, Husqvarna, MowFleet, and Ambrogio. The partnership expands SiteOne's robotic mower offerings and further solidifies its position as a knowledgeable supplier of robotic equipment. The partnership will also launch AOS' Automated Ball Wash and Management System for golf course superintendents.
"I believe automation will allow landscape professionals the opportunity to take the next step in providing the most customer-focused mowing solutions," said Joe Langton, CEO of AOS. "We plan to assist professionals in the robotics journey by providing the aftercare that is needed for the successful deployment of these automated systems. It is important for professionals to understand AOS joined together with SiteOne because our values and visions are aligned."
The Integra Group partners with Habitat for Humanity
The Integra Group, the creator of BOSS Software, not only aims to be impactful with the tools it provides its customers for their businesses but to have an impact on the community where it lives and works.
Since 2015, Integra Group team members have put aside their programming and client support responsibilities for a day and grabbed hammers and drills to help Habitat for Humanity St. Louis build new homes for families in need.
For the second year in a row, the Integra team put their time and talents to build the exterior framing on the ranch-style home in St. Louis' Riverview/Glasgow Village neighborhood. A typical Habitat home is in the range of 1,200 to 1,500 square feet and features three to four bedrooms and one to two bathrooms. In most cases, our homes also have a full, unfinished basement and either a driveway or parking pad.
This project sustains The Integra Group's mission of community service through both time and treasure, with an eye toward long-term sustainable results. In addition to Habitat for Humanity, the company also works with Give Hope Global, Midwest Food Bank, and the Jackie Joyner-Kersee Foundation.
"Partnering with Habitat for Humanity provides families the opportunity and possibility that decent, affordable housing represents, and we are proud to participate in such a worthy cause," said Mike Cossins, president and founder of The Integra Group. "By coming together toward a common goal, we were able to make a tangible difference in the lives of others."
Habitat for Humanity offers a homeownership opportunity to families living between 25 and 50 percent of the area median income, who are generally unable to obtain conventional house financing. In addition to purchasing their home and paying an affordable mortgage, partner homeowners contribute 350 hours of "sweat equity" on the construction of their home or another Habitat Saint Louis home and take educational courses to help them succeed at owning a home. Since its inception, Habitat and its volunteers have brought nearly $60 million in affordable housing development to the St. Louis metro area.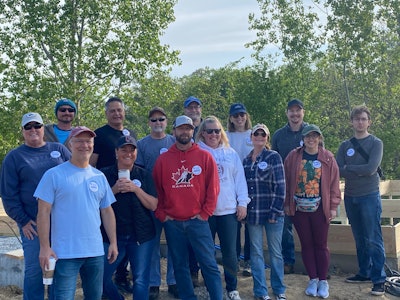 ASV announces Dealer Award winners
ASV, a manufacturer of all-purpose and all-season compact track loaders and skid steers, presents three dealers with Dealer of the Year Awards for 2022. Barda Equipment is the Large Market winner, Butler Equipment is the Medium Market winner, and Duffy's Sales & Rental is the winner of the Small Market category.
"These three dealers stand out due to their commitment to ASV and excellent customer service standards," said Jeff Pate, director of sales for the ASV brand. "We are proud to have them as our partners representing our brand in their communities."
Alberta-based Barda Equipment is ASV's 2022 Large Market winner. The multi-location dealer shares ASV's commitment to quality products and service. With a focus on the forestry, landscape, oilfield, and building construction industries, Barda Equipment has been a loyal representative of the ASV brand for over 35 years and was also awarded ASV's 2019 Dealer of the Year Award.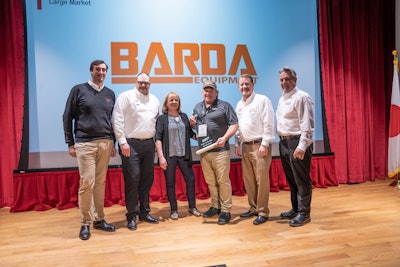 Butler Equipment is the winner of the 2022 Medium Market award. The Connecticut-based dealer serves a wide variety of customers and is committed to putting the needs of their customers first. This ideal has brought them success for more than 55 years. Butler has been an ASV dealer since 2002 and knows that the quality product the brand provides will lead their customers to a positive experience.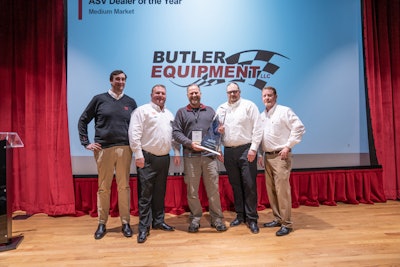 ASV selected Duffy's Sales & Rental as the winner of the 2022 Small Market award. The Wisconsin-based dealer has served ASV customers since 1993, providing sales, rental, parts, and services for the construction, landscaping, and land-clearing industries. Their parts and service department is headed by the longest-tenured service representative of ASV equipment in the United States, cultivating a knowledge base at this dealer that is unparalleled.