The Outdoor Power Equipment Institute (OPEI), the trade association representing power equipment, engine and utility vehicle manufacturers and suppliers, has updated its free consumer and dealer education materials for the organization's "Look Before You Pump" campaign.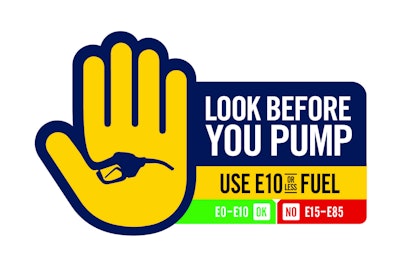 OPEI reinforced the longtime public service campaign in light of the increased availability of higher ethanol fuel blends at gasoline filling stations. Gasoline containing greater than 10 percent ethanol (E10) can be harmful to outdoor power equipment and other small engine products, including lawn mowers, snow throwers, power washers, string trimmers and chain saws, as well as boats, snowmobiles and utility vehicles.
"Using fuel with more than 10 percent ethanol in any gasoline-powered outdoor power equipment can void manufacturers' warranties and damage the engine," said OPEI President and CEO Kris Kiser. "We hope that equipment dealers, manufacturers and suppliers will distribute these updated materials and remind consumers to 'look before you pump'."
According to 2016 national polls by Nielson/Harris and OPEI, consumers remain confused about the changing fuels marketplace. Less than one-third of poll respondents (31 percent) knew that gasoline blends in excess of E10 are harmful to outdoor power equipment. And only 5 percent knew that gasoline blends in excess of E10 are not approved for use in small engines.
More alarming, OPEI says, 60 percent of the survey respondents assumed that any retail fuel is safe for any type of engine.
Landscaping company managers should remind crews to select gasoline based on the equipment specifications, not just price.
OPEI launched its "Look Before You Pump" campaign in 2013. Digital versions of the materials are free and available for download here. And here's a video OPEI produced recently: