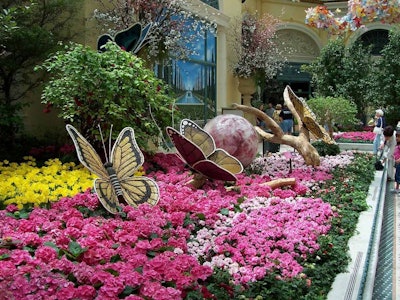 Vivas Las Flowers
Amid the manic frenzy of all things Las Vegas is a headliner show that hits the jackpot every time. Located near the lobby of the Bellagio Hotel and Casino is a 30,000-square-foot conservatory and botanical gardens designed to delight, entertain and soothe the senses. The jangle of slot machines seems far away from the atrium's breathtaking display of flowers, plants, trees, lights, water features and theme-inspired topiaries.
The Bellagio is mostly famous for its spectacular 8-acre, man-made lake where "dancing fountains" cavort to choreographed music, soaring up to 250 feet in the air. The $40 million fountains were created by WET Design of Los Angeles and draw huge crowds to the resort.
But the seasonal botanical shows in the Conservatory & Botanical Gardens have become a destination since the area opened in 1998. Five times a year (including Chinese New Year) the floral displays are replaced with new, theme-inspired productions. Directed by Audra Danzak, the Bellagio's executive director of horticulture, the 2007 spring show blooms into life with a whimsical tribute to the craft of landscaping. Under her direction, more than 10,000 blooming flowers and over-sized living displays offer glimpses of a landscaper at work.
Traditional gardening gear is found throughout the exhibit. A towering, 10-foot-tall watering can saturates a bed of wheat grass. A 2,000-pound, 14-foot-wide sun bonnet rests on a hill of pink and yellow lilies while nearby a sea of multicolored tulips surround an over-sized replica of a 10-foot-tall trowel. Each of these enormous replicas weighs between 500 and 2,000 pounds and feature tens of thousands of individual plants and flowers.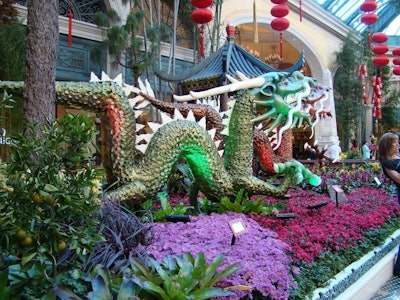 The fanciful garden topiaries include a giant snail made from sheet moss, red coffee beans and cream- and pink-colored roses. Visitors gravitate toward the 5-foot-long frog comprised of reindeer moss, green coffee beans and vibrant, lime-colored "Kermit" chrysanthemums. The stars of the show are two graceful 7-foot egrets covered in white statice at rest among the water lilies and lotus blossoms of the centerpiece reflecting pool. Small, bubbling "blossom" fountains in the pool (also created by WET Design) resemble the opening and closing of a flower.
The highlight of the show resides within a classic English conservatory. A winding cobblestone path leads to a glass-walled greenhouse where visitors can view more than 40 species of butterflies from all over the world. The colorful winged creatures dance among antique tools and flowering potted plants in the potting shed display behind the glass walls.
Water laminars arc over the pathways and guests stop and gape at the tube-like streams of water.
The overall effect is one of dazzling sensory stimulation with Mother Nature as the lead designer. Like any good show, the drama is derived from the presentation, and a cast of hundreds, led by Danzak, pull off the special effects.
Danzak is both creative director and producer of the elaborate floral shows and says she gets her inspiration from nature, art, music, literature and popular culture. Every show is different, but what remains the same is her determination to bring her vision to fruition regardless of obstacles. "People are always telling me that something cannot be done. Either it's never been done before or they tell me it's impossible, which is not something I want to hear. I don't accept the possibility of 'impossible.' I want to hear how it can happen. And usually I prevail," she says with a laugh. The obstacles to pulling off a show this size – within a venue that's open 24 hours, seven days a week – presents unique challenges requiring creative solutions.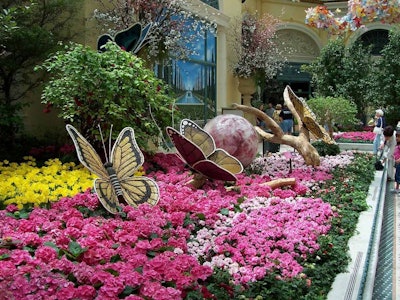 A lot goes on behind the scenes to stage the show
Planning for each show begins more than a year in advance. Plants have to be selected and grown, then potted and stored in a vast greenhouse located behind the Bellagio. Plants are shipped in from all over the world and must be inspected, fed, watered and stored until the staging time. It's not unusual to receive thousands of plants per day from outside vendors.
A swarming team of more than 150 horticulturists, engineers, gardeners and laborers work 24 hours a day for seven consecutive days during each seasonal change out. For the spring show, the Chinese New Year was dismantled and removed, the greenhouse built and the massive topiaries brought in. Five cranes are stored underneath the conservatory floors and are used to transport equipment, trees and massive set pieces. The electronically operated floors are raised and lowered during the change out, much like a professional performance-style stage. The biggest challenges involve coordinating the size and weight restrictions of an indoor show.
"All the measurements must be choreographed down to the smallest detail," says Bellagio's project manager Sharon Hatcher. Hatcher is in charge of the nuts and bolts of taking down the existing show and installing the new one. She directs the operation of heavy construction equipment inside the atrium under a 45-foot-tall glass ceiling. The installation takes place during periods of lighter customer traffic, and work areas are cordoned off to ensure customer safety and minimize guest inconvenience. "The installation process actually draws a lot of guest interest," Hatcher says.
She works with her staff to ensure they treat guests with professional courtesy during the change out. She adopts the same can-do attitude of Danzak, striving to come up with creative ways to install projects that don't come with a precedent. "It's a constantly evolving process requiring expertise from engineers, landscape architects and irrigation experts," she says. "Everyone's got to make their parts fit in with the whole scheme."
She also has to hire, train and retain seasonal workers. "We offer good pay and respectful work conditions, but it's an ongoing challenge to find good workers," she says.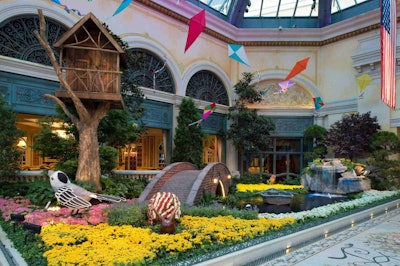 Manic maintenance demands
Every seven days Danzak's crews replace hundreds of tulips, all individually potted in small, 6-inch containers. The azaleas, mums, daffodils and roses are replaced every two weeks, all on a carefully constructed schedule. Wilted leaves or languishing flowers are briskly removed and replaced with a fresh plant.
In fact, the entire display is much like a huge container garden, all artfully disguised with grasses and moss. The container planting allows Danzak creative freedom from traditional plant groupings. She can choose flowers for their color and effect without being constrained by seasons or temperature. "Everything is well watered by elaborate irrigation systems, and the light and controlled temperatures allow a range of choices," she notes. Most of the topiaries are covered with Alternanthera and include Sahara roses, tiny color-coordinated flowers, pods, seeds and even colored coffee beans.
"The design is meant to soothe and relax the guests but to also dazzle them with illusion and special effects," Danzak says. Workers cordon off sections when they do maintenance on the complex lighting, irrigation system and water features, but visitors flock to the worksite. "Our gardeners are constantly peppered with questions from curious spectators," Danzak says. "They are trained to answer courteously and informatively."
Because the garden is indoors and near restaurants and the casino, meticulous attention is given to pest control. "You are dealing with real, live plants and flowers so it's imperative they are individually inspected for disease or pests," Danzak explains.
Throughout the shows, Danzak gathers feedback from visitors and staff, constantly making adjustments as she goes along. Because each show is unique and fresh, the problems require new resolutions. Sometimes, the more simple effects are more popular than expected. The spring show's "blossom" fountains, the butterfly display and the water can's laminar arcs have garnered the most raves.
The exhibits have created their own following and many guests request reservations to coincide with the change out. "It's an amazing thing to see the kind of concerted effort and teamwork involved to pull off such a massive undertaking," Danzak says. Her favorite moments are when the last plant is installed and she can stand back and observe the magical effect of her efforts.
And then she spots a tulip – bending over more than allowed – and she sends for a fresh replacement.
After all, it's Vegas, where even the gardens are designed to entertain you.
---
Bellagio by the numbers
It takes 129 staff members to maintain the flowers and plants in the conservatory.
There are 2,000 individually blown-glass flower sculptures (by artist Dale Chihuly) on the lobby ceiling.
The Bellagio's fountains span 1,000 feet of water and soar as high as 250 feet in the air.
There are more than 40 species of butterflies in the spring display including: Papilio Dardanus, Caligo Beltrao, Morpho Catenaris and Graphium Agamemnon.
24 employees take care of the daily feeding and watering of plants.
A 27,000-square-foot greenhouse behind the Bellagio is used for the temporary storage of plants.
5 times a year the Conservatory and Botanical Gardens theme changes: Chinese New Year, Spring, Summer Garden Party, Harvest Show and Holiday Show.
Glass ceiling in the atrium: 50 feet high
Original cost to build the Bellagio: $1.6 billion; expansion cost: $375 million
3,933 guest rooms, including 512 suites
Rates for deluxe guest rooms: $159-$859; suites: $325-$6,000
More than 100,000 square feet of gaming area