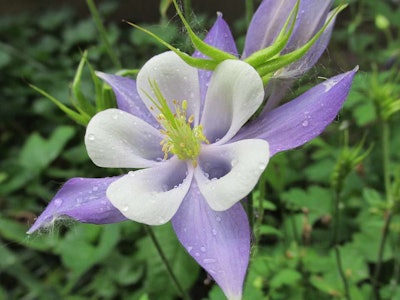 Design challenges in the landscape come in all forms: slopes, shady areas, sunny areas, dry areas, wet areas and more.
And while your client may or may not be sympathetic to these, it's your job to overcome them with solutions for a functional and beautiful landscape. This is where perennials come in. Not only do these plants offer a consistency to your overall design by coming back year after year, but they also offer a solution to each of the problems mentioned above.
The key is to match up a condition or design challenge with the right plant (emphasis here on the philosophy of "right plant, right place"). Not only should you match growing requirements of the plants to the site conditions, you should also consider how big the plants will get – a key element that will defeat design every time if ignored. And don't forget to mix things up. Your clients want to feel as though they are getting the customized treatment they are paying for. Look for plants with different form, texture and color.
Meanwhile, here are some suggestions to get you started with perennials to solve your toughest problems. These are designed to perform in specified conditions. Just remember that there are many more selections out there, so consult with your local nursery as you look for planting options.
For more information on perennials backed with trials and research that describes their performance, check out Michigan State University's herbaceous perennial fact sheets at this site.
Made in the shade
Finding plants that tolerate shade can be a challenge – especially if you want to branch out from the typical purples and blues. And if you're dealing with a dry area that's shady, it's even more difficult, but not impossible. Here are some selections that will thrive in these conditions.
Columbine (Aquilegia hybrida) is easy to grow and produces large, showy blooms of yellow, white, pink, blue and purple. It grows 15 to 20 inches and will bloom until the frost.
Pigsqueak (Bergenia cordifolia) has a thick, glossy foliage that can sometimes have hues of bronze or purple. Its flowers emerge from the center of the plant and consist of pink clustered blooms.
Downy yellow violet (Viola pubescens) is a yellow-flowered perennial that grows up to 16 inches, flowering early in the season.
Mourning widow (Geranium phaeum) is a hardy plant with burgundy-black flowers that bloom early to mid summer.
In wet, shady areas, your options get a little more diverse.
Yellow archangel (Lamiastrum galeobdolon) will grow 9 to 15 inches tall, with plants spreading freely. These plants feature silver markings on foliage that offset yellow flowers.
Cardinal flower (Lobelia cardinalis) boasts fiery red 1-inch blooms that emerge in late summer to early fall. It likes especially wet conditions and grows up to 4 feet tall.
Cinnamon fern (Osmunda cinnamomea) grows in symmetric clumps and features
cinnamon-colored hairs. It can reach 5 feet in height and attracts hummingbirds.
Japanese primrose (Primula japonica) produces pink, red and white flowers in late spring or early summer. It grows up to 24 inches tall and spreads to 12 inches.
Sunspot specials
Bright and colorful, there are many perennials that enjoy full sun. But when you throw in dry or primarily wet conditions, you are forced to become a little more selective if you want plants to thrive. For dry conditions, especially if you're looking to create a colorful flowerbed for a client who does not have an irrigation system or for a commercial client's parking lot, here are a few suggestions to get you started.
Sky blue aster (Aster azureus) blooms late summer to early autumn and will light up the sky with bright blue and lavender blooms. It will grow to be 2 to 3 feet tall.
Blazingstar (Liatris spp.) is sometimes hard to identify because it comes in at least a dozen species. But it features bright purple hair-like blooms on 2- to 5-foot stems. They take up minimal space and are appropriate for even small gardens.
Poppy mallow (Callirhoe involucrata) has five-petaled flowers in a wine-red color with a white eye. It blooms all summer and has a low spread that lends itself well to cascading over retaining walls.
Black-eyed susan (Rudbeckia) is best-known for its brown, domed center that is surrounded by bright yellow petals. It blooms all summer and grows 2 to 3 feet tall. It worships the sun and requires little maintenance.
Sunny but wet conditions are a little harder to manage, but aren't necessarily the result of lots of rain and sun in tandem. They are more likely the result of a sunny site with poorly drained soil. If that's the condition in your location, consider using these plants.
Rose mallow (Hibiscus) does well under moist conditions and, as a Hibiscus, it produces the largest flower of any perennial. It can grow up to 5 feet tall, but rarely requires staking. It blooms in a variety of colors, depending on variety.
Beebalm (Monarda didyma) grows in dense clusters and blooms in bright red flowers from July to late August. It grows 3 to 4 feet tall and is a member of the mint family.
Blue flag (Iris versicolor) blooms May through July with blue flowers that feature yellow and white markings. Flowers are 3 to 4 inches across and the plant grows 2 to 3 feet tall.
Globeflower (Trollius spp.) is a member of the buttercup family. It grows 1 to 3 feet tall and up to 2 feet wide and flowers are gold, white and orange with spoon-shaped petals.
---
Avoiding allergens
They may be pretty to look at, but perennial plants that produce pollen and mold spores can make people sick. If you'd like to consider some plant choices that won't get under your clients' skin, try some low-allergy options. Female cultivars don't produce any pollen at all. Look for these instead of their male counterparts whenever possible. In particular, avoid using male clones that are marketed as "fruitless" or "seedless," as these are responsible for producing copious amounts of pollen.
Some of the most popular non-allergenic trees include the female cultivars red maple and weeping mulberry. The red maple (Acer rubrum 'Red Sunset') grows up to 80 feet tall and boasts red and yellow leaves in the fall. It's a fast-growing tree that produces good shade. It thrives in full sun and won't tolerate salt. The weeping mulberry (Morus alba 'Pendula') grows up to 10 feet tall and 12 feet wide. It attracts birds and should be planted in full sun to part shade.