Creating a refuge for clients with special needs
Two landscape crews teamed up to give a handicapped couple a backyard retreat they could easily access and maintain. With both homeowners wheelchair-bound – one a double-amputee from the Vietnam War and the other a paraplegic from a horse riding accident – Graves Lawn and Landscape and Tropical John Landscapes of Rockwall, Texas paid careful attention to pathway widths and slopes, measuring the homeowners' wheelchairs and understanding their capabilities. The landscapers poured about 2,000 square feet of concrete pathways, covering them in Oklahoma flagstone. They also re-routed all of the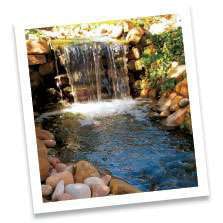 sprinklers and installed an 1,800-gallon, two-tier Aquascapes koi pond, which includes native plants such as lily pads. The pond requires minimal upkeep consisting of adding chlorine killer once a month and checking the skimmer box once a week. The pond is constructed of four tons of Arizona river rock and about five tons of moss boulders. The crews finished the area by installing a 1,500-pound flat boulder for the clients to sit together, out of their wheelchairs, just above the pond.
WANT YOUR PROJECT FEATURED?
For consideration, please send high-resolution photos, a brief description and location of the project and the name and location of your business to lheartsill.rrpub@gmail.com.