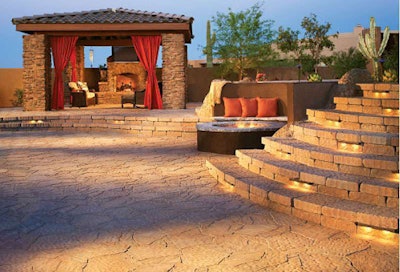 With the right design, materials and goals, you can earn a steady cash flow from this project option.
Building hardscape projects in phases is growing in popularity because it allows customers to achieve their dream yard over a period of time with financially digestible, staggered payments.
Contractors like phased hardscape projects because they secure work in a precarious economy.
"Sometimes budget constraints make it impossible to do the entire project at one time," says Mark Halla, owner of the Mustard Seed Landscaping & Garden Center in Chaska, Minnesota. "By phasing the project, the contractor gets his foot in the door, the customer gets started on his project and the likelihood of an ongoing relationship is nearly 100 percent."
"We've found that while the housing market has declined in size, the aspirations of homeowners have not," says Ken O'Neill, senior vice president of marketing for Belgard Hardscapes. "They see that outdoor living spaces add value to their homes and withstand the recession. They may not have the money to do the whole thing at once, but the desire is still there."
Take the long view
The key to successfully phasing in a project is to inspire a client with a project plan that encompasses his or her vision, while working within the client's budget. William Dickerson does just that.
The economic downturn in 2008 inspired Dickerson, owner of Dickerson Landscaping in Tallahassee, Florida, to view jobs in pieces and involve clients more in the design process.
"I talked to them about budgets and building things in phases. They understood they couldn't have everything at once but could mix and match the features," he says.
Designing a large project and drafting it into phases so the client could easily visualize the concept was a skill Dickerson perfected in school as he studied landscape architecture. It paid off. "Clients began coming back year after year to add the next phase," he says. The technique still works for him.
Offering building alternatives, such as phases, has helped companies like Halla's be more competitive, as well. "Often, coming in with a bid showing phases will actually help us earn the business because other companies focus on all or nothing and push the client toward a company like us who is willing to be more flexible," he says.
Set realistic goals
Planning a phased hardscape project begins with "identifying the client's wants and needs, estimating an appropriate budget, pinpointing a schedule and focusing on achievable goals," O'Neill says. It's a great opportunity to engage a homeowner in a different type of sale and profit on a project, he adds.
"The first element to go in, such as a retaining wall, may not be the prettiest or most usable element of the project, but you can finish with all the bells and whistles adding lighting, an outdoor kitchen and so on," O'Neill says. Because of budget constraints, some clients may have to wait for the "bells and whistles."
Projects that can stand on their own such as patios, walkways, fire pits, retaining walls, pools and decks are good candidates for phasing.
"Adding on to an existing paver project is easy and can be made to look 'complete' at every stage," says Gary Anderson, owner of Gary Anderson Landscaping in Andover, Minnesota.
It's important the client has a usable space he or she can enjoy until the next phase begins, especially since projects can take months or years to complete.
"The client has to realize the benefits and usability from each phase to keep his or her vision and excitement for the completed project," Anderson says.
Get the lay of the land
After you and your client have determined the major elements of the project, and before you draft an initial design, in some areas of the country you'll need to consider how drainage may be affected by each new phase. These challenges should be tackled early in the planning process.
For example, in Rockaway, New Jersey, where Bill Hammond, owner of Global Contracting, has installed hardscape projects for more than 33 years, city ordinances pose specific challenges that contractors in other parts of the country may not face. There, environmental restrictions mandate that impervious paving can only make up 18 percent of a residential lot since pervious materials help to combat the amount of run-off water on the property produced from rain. Because of this, the first phase of a hardscape project for Hammond often includes the tearing up of a concrete driveway or other materials to balance out other impervious materials that may be phased into the new project.
Sometimes the less-than-gratifying beginning stages of a project, such as tearing up existing materials or enhancing drainage, need to be explained several times to keep the customer on board.
Accessibility, function, impact on the customer's home life and future disruption to the property that may be caused when new phases are added should be outlined and discussed with the client, Halla says.
Choose materials
The hardscape materials should create a design that effortlessly transitions from the inside of the house to the outside, as if the new hardscape were an extension of the house. You might want to avoid, for example, abruptly going from a rustic home's natural elements to a hard-tile walkway.
It's also important to include your client in the decision-making process. Don't just show pictures of the materials. Bring samples that he or she can view in the sun, shade and when wet.
Before purchasing pavers, stones or blocks, ensure the manufacturer does not have immediate plans to eliminate the shapes and colors you will use in the project. Also, be mindful not to choose pavers that may weather or change greatly during time between phases in construction.
Often, working with a larger distributor will allow you more options, as well as peace of mind that the materials you choose for the first phase will be available when you complete the project, says Walt Steele, paver business manager for Pine Hall Brick.
"You can do a phase here and a phase there and not worry about colors fading or looking weathered [provided you choose the right materials]. They aren't going to look different a few years down the road," he says.
Use visual aids
Whether you draft your design with pencil and paper or use software for the process, consider the advantages of selling the project to your client with any one of a variety of 3D software programs that render hardscape projects in an impressive fashion. There are many programs available that show the kind of intricate details you can't get from a 2D sketch.
TLC Landscaper of the Year Finalist Sean Nutter, owner of Greenday Creations in Miami, Florida, uses software by Structure Studios to showcase his portfolio and discuss conceptual projects with clients. The technology pulls the customer into a landscape that includes flowing water and specific plant selections.
"It's hard for clients to say yes to spending money without seeing what they are getting," Nutter says. "That's why having this software is such an important piece of equipment to have.
"Its 3D design capability shows customers an overall vision of what their project can look like," Nutter says. "We give them the vision and break it down with stage estimates that fit their budget."
Anderson uses Dynascape Design Software, a CAD landscape design software that offers an online plant database and pre-drawn shapes from a symbols library. There are many kinds of software to choose from. Most programs are user-friendly, and many companies provide free training and tutorials if you buy their software.
On the other hand, some contractors still successfully rely on hand-drawings. Halla says he has even done a rough sketch on a paper napkin. It keeps costs down. "We only do what is necessary to effectively share the vision with the customer," he says.
No matter what medium you use for your presentation, be prepared to offer the client several designs, prices and schedules capitalizing on the many options a phased project has to offer.
Establish financial commitments
For medium and large projects that may extend one to three years, Anderson encourages clients to sign a contract for all of the work, locking in quoted prices for the next phase or phases of the project. In the contract, he includes a specific schedule of dates when the next portion will begin and be completed.
"This helps keep the customer motivated to reach his or her original goal of having the entire project completed," he says.
However, costly large projects may seem daunting to customers.
Authorized Belgard-certified contractors can offer their clients the Belgard Preferred Payment Option, a same-as-cash program that allows the homeowner another resource for spreading out the payments during a period of time. If paid in full during the same-as-cash period, homeowners will not accrue interest.
Start digging!
Although you have a plan and your client is on board, you need to make sure he or she stays there. You don't want the noise and mess of phase 1 construction to disillusion your client about future phases.
While the excitement of talking over various features and materials during the design period may be the "honeymoon" phase, once the heavy equipment rolls into the yard, reality begins to set in with the noise, mud and trash.
These inconveniences can easily be mitigated with clear communication and a clean workplace. Ask your client what form of communication he or she prefers (phone calls, texts, emails), and use it to keep him or her posted on progress, rain delays, etc. Opening up the lines of communication will also allow your customer to ask questions or express concerns for you to address.
"By showing up on time and keeping our customers informed, we rise above most of our competitors. It's not uncommon for a customer to tell us we were the most reliable contractors on their project," Halla says.
He even asks families with young children when naptime is, so crew members don't run noisy equipment during those hours.
Halla also stresses the importance of an orderly worksite. His crews clean up at the end of each day, not just at the end of the project. The last hour of each day is typically spent sweeping the driveway, blowing the lawn, scraping mud off the road and washing the front walkways.
It's also important to show consideration for your customer's neighbors. They may be future clients one day, as well. For example, Halla has his customers touch base with client neighbors to see if any special events are scheduled in the area during work times, so his crew can ensure the street is clean or even halt work for a day for a wedding or other special event.