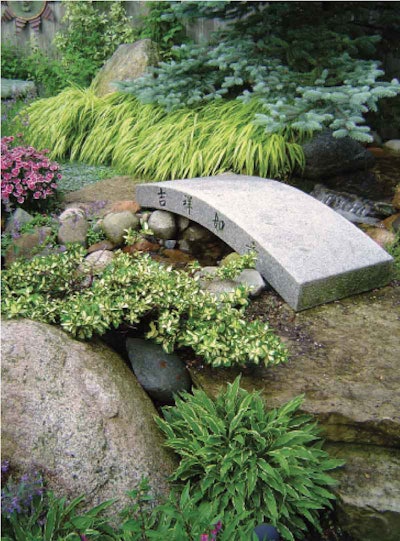 Gardens designed to restore and heal the body, mind and spirit have been around since medieval times. But as non-traditional medical therapies have become mainstream in recent years, interest in healing gardens has bloomed into a landscape design trend.
Large institutions such as children's hospitals, cancer centers, nursing homes and burn centers have recorded evidence-based success with therapeutic healing gardens on their campuses, and landscapers report residential clients eager for the same healing elements in their backyards.
You don't have to be a yogi to guide your clients through the process of creating a healing garden, but you should be aware of the common elements found in holistic landscapes. Utilizing them may be as simple as placing a piece of statuary under a vine-covered arbor or as complex as constructing an intricate paved stone labyrinth. The uses for such spaces range from meditation, exercise and simple relaxation to providing healing herbs and fragrances and textures that can help clients with illness in their recovery process.
Assessing client needs
P. Annie Kirk, owner of Red Bird Design in Portland, Oregon, says her process for designing a meditation garden begins with an online questionnaire prospective clients fill out before their first meeting. The information helps her gauge her client's gardening expertise and evaluate his/her current and future vision of the garden. "Each garden should be tailored for the individual and reflect his or her life experiences, desires, hopes and vision for the space," she says. "One person may find a koi pond relaxing and the fish spiritually refreshing, while another person sees it as something that has to be cleaned, maintained and the fish as something else that needs to be fed.
"You are engaging the client in a collaborative design process that results in the landscape being about them, not about you," Kirk says.
Naomi Sachs, director of Therapeutic Landscape Network and owner of Naomi Sachs Design in Beacon, New York, has worked with clients ranging from those who are energized by lively outdoor entertaining to those who find the sight of a hammock swinging in the breeze a cause for stress and anxiety. Like Kirk, she says the most important part of the job is listening to the client, but also to the site itself. "You have to really get a feel for what the site is telling you and what the client wishes to experience in his or her garden," Sachs says.
Most clients who want a meditation garden require privacy. "If someone wants to do yoga at sunrise, you don't want to block the morning light. But if she says she likes to meditate in the heat of the day, you should locate the sanctuary in the shade. These decisions require listening intently to your clients' needs," Sachs says.
Jan Satterthwaite, founder of VireO Design Studio in Seattle, Washington, has created simple healing herb gardens as well as master landscape plans for hospitals. She says all of her designs share the same philosophy: fashioning outdoor spaces that inspire the soul and offer life-enhancing benefits. For one client with chronic illness and post-traumatic stress disorder, she created a garden retreat and "designed the space to maintain a simple symmetry of spaces and materials to support a feeling of balance and continuity."
Satterthwaite used natural materials, simple colors and textures, attention to detail and a simple form that merged with the surrounding landscape. She added a soft layer of native tree and shrub planting inside an existing wooden fence, creating an enclosed, sunny courtyard. The courtyard, a curvilinear form, was paved in concentric rings using local stones and complemented with seating stones from the same material. A nearby shallow pool and low-volume fountain were made from polished stone to provide a quiet but mesmerizing sound of flowing water. She added a vine-covered wood pergola with an arrangement of custom wooden seats facing the water feature. Overgrown, chaotic plants were replaced with ornamental grasses and a simplified native plant palette, which also attract wildlife such as hummingbirds and song birds.
Fundamental design elements
While each restorative landscape design space is created to suit the individual's needs and the site options, common elements such as plant color and texture, water features and buffers have universal appeal.
Softspace
Kirk uses only native plants in soothing colors and soft ground covers, grasses and vines that create motion and texture. Soothing colors include green, white, lavender and blue. Steer away from energetic colors such as red and yellow. Choose plants that attract wildlife such as butterflies, hummingbirds, rabbits and songbirds to help connect the client to the landscape and the calming influence of nature. The trend toward blending healing of mind and body includes planting medicinal herbs such as echinacea, chamomile and aloe vera, easy-to-grow plants that also offer healing properties.
Buffers
Creating a private space for a meditation garden requires thorough site evaluation. Pergolas, arbors, trees, shrubs or existing structures may be used as a privacy buffer. "When I design a space for prayer, meditation, exercise or yoga, it's a safe haven, free from distracting noises or distraction from neighbors," Kirk says. "You might have to counter 'bad noise' with white noise or install a plant or hardscape buffer to shield the space."
Paths
Foot paths to the garden may be constructed from local stone or lined with native shrubs and plants or raised flower gardens. They should be curved and winding, rather than straight and linear.
Fragrance
Commercial institutions such as nursing homes, veterans' hospitals and cancer treatment centers use fragrant flowers in their gardens to facilitate healing and stimulate positive memories. Ask your clients to list flowers they associate with happy memories. Common choices are lavender, roses, lilies and gardenias. "It's important to focus on one strong smell instead of a riot of competing ones in order to achieve harmony," Sachs says.
Water features
Daryl Toby, owner of AguaFina Gardens International in Detroit, Michigan, has been installing restorative gardens in residential settings for national and international clients for more than 15 years. While most meditation gardens incorporate water features, Toby guides clients toward a calm sound and says to avoid huge crashing waters such as waterfalls or fountains with a vigorous flow. "Look for water features with soothing sounds, sights and smells," he says. The water sound should soothe and refresh and contribute to the overall feel of a meditation garden. He prefers a pond, fountain or brook with a gentle, babbling sound that masks annoying noises, such as those from traffic, but doesn't overpower the space.
Even a simple bird bath or water-filled urn with floating water lilies will suffice, Kirk says. "If the site precludes actual water, a symbol such as blue flowers or a wood carving will also work," she adds.
Sitting areas
Install a bench and include space for moveable furniture the client can turn toward the sun or pull in for shade, depending on the season. Most meditation gardens include statuary such as a Buddha or other religious figure.
Creating a meditation garden or sacred space for your client goes beyond merely installing a landscape. "It's soulful work," Kirk says. "It's about serving the everyday needs of your client by listening to what makes them feel better. You really get to know your clients during the course of time, and it's an old-fashioned way of providing good customer service."
Labyrinths
Creating a path that quiets the mind
Labyrinths have been around at least 4,000 years and were commonly found in medieval monastery and church gardens. Unlike mazes that have dead ends and tricky turns, labyrinths feature a single path that leads to the center and then returns out the same path. They consist of a combination of a circle and a spiral forming an ancient symbol.
The easiest way to create a backyard labyrinth is by mowing a path through grass, or using smooth river rocks to mark the path and filling it with gravel or wood chips. A longer lasting method for larger community spaces is to line the path with low-growing hedges and use natural paving materials for the path. Some versions are created with hardscaping materials.
Labyrinths are often used as part of meditation gardens, says Annette Reynolds, a labyrinth designer and consultant in Birmingham, Alabama, and founding member of the Labyrinth Society, an international organization that supports the use of labyrinths.
She creates outdoor labyrinths with local stones, grasses or flowers. "Walking the labyrinth pattern quiets the mind," Reynolds says. "It's a meditation or prayer path, and the only decision you have to make is the one to enter it."
EDITOR'S NOTE: This was written by Carolyn Magner Mason.