Spacious design leaves client glowing
Medea Landscape Studio (medealandscapestudio.com) jazzed up this disconnected, confined landscape using the classical elements – earth, water and fire – but there's nothing traditional about the project.
Their design solution had to accommodate a stand-alone spa, crowded patio and walkout basement with no connection to the sitting area. The existing planting arrangement also created a closed-off feel and blocked attractive views. "The homeowner wanted something distinctively his own," says landscape architect Michael Medea.
His crew followed through on this mission by installing gas-burning fire troughs with lava rocks and custom stainless-steel covers. For contrast, they built a sheer decent waterfall and enlarged the patio to incorporate elevation changes that worked with the site's natural grade. They then added an outdoor kitchen, sound system and landscape lighting.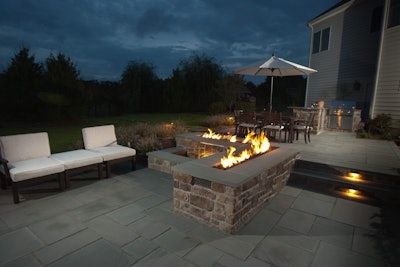 Medea and his crew dressed up the spa with a masonry seat wall and added a rustic flagstone pathway and steps leading to the basement.
To have your project featured, e-mail high-resolution photos, description of the project and name of your business to LaurenHeartsill@randallreilly.com.