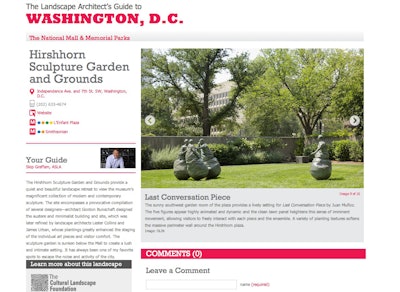 The launch of the online, mobile-friendly Landscape Architect's Guide to Washington, D.C. is an impressive new offering that visitors can use to explore more than 75 historic and contemporary landscapes in Washington, D.C. and Arlington, Virginia.
Expert commentary and more than 800 photos are provided by 20 landscape architects, all of whom are designers of the public realm and leaders in sustainable design.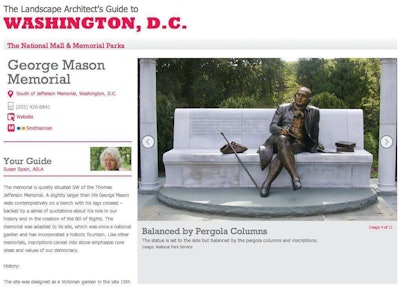 The guide is online here: www.asla.org/guide
The guide is the first of its kind devoted to Washington, D.C. It highlights historic monuments and parks—including the National Mall and Memorial Parks and Capitol Hill—and examples of new sustainable works—including Constitution Square, a cutting-edge green street that is one block long, and Diamond Teague Waterfront Park, which incorporates man-made, water-cleansing wetlands on the Anacostia River.
The guide is divided into 16 distinct tours in all four quadrants of the District—as well as a tour of the new D.C. bicycle network. Each tour covers multiple neighborhoods, and includes a printable walking or biking map.
The guide was created by the American Association of Landscape Architects (ASLA) in partnership with 20 experts who were asked to explain the sites from a landscape architect's point of view and show how the design of these sites influences how people interact with or even feel about these places.