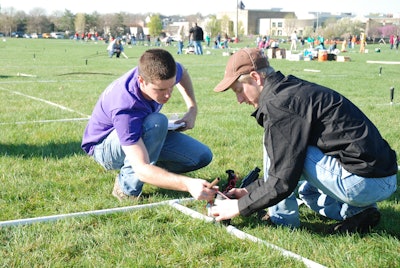 Jobs, jobs and more jobs. Having a job seems more important these days. With an ever-changing economy, recent college grads are constantly feeling the ache of the job-hunting pressure.
However, more and more students are finding a way to beat the unbearable stomachaches, the sweaty palms and unrelenting headaches with the help of organizations like the Professional Landscare Network, PLANET.
More than 900 students from 60 schools across the country will compete as teams in Student Career Days.
What may appear as a fun-filled day of driving and using expensive equipment is really a day full of learning, growing and seizing opportunities for soon-to-be college graduates.
From March 7 to 10 at Auburn University in Auburn, Alabama, students will be able to compete with fellow horticulture and landscape students in a variety of events including compact excavator operation, exterior landscape design, landscape maintenance operations and many more.
But even more than that, students will have the opportunity to attend a career day and meet and interview with landscape, lawn care, irrigation and other companies.
Student Career Days is a unique event that truly capitalizes on educating students not only about the landscape industry, but also showing a student the possibility of having a serious future in becoming a professional landscaper.