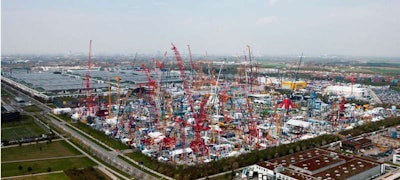 The two pre-Bauma media dialogue days are gone, and I'm trying to get some idea from them of what the big show here in Munich, Germany, in April might be like. About the only certainty I can come up with is that it will be warmer.
These two days are really just intense conversations, usually with product specialists from the OEMs, people who know the equipment inside out. Company strategists and market experts are conspicuously absent, and that's to be expected given the setup. Journalists come from around the world to make brief visits to about 200 tables in two huge rooms on two floors of the otherwise empty Messe Munchen center (site of the April event).
More than once I heard it called, with a smile, "speed dating." It's a very effective way for us determine what will be at the main event. It's also possible then to read between the lines and get some idea of how the equipment industry is preparing for the year ahead.
How much is new is an indicator. How much of it is big machinery because it not only costs to build that, it costs to bring it here. Is there an "emerging" field, a sector of the industry that was previously underrepresented, and of course vice versa. Can you spot trends?
And a few more remote indicators are there, too. But, it's a stretch to put it all together from table visits. As you might expect, all of the OEM reps are optimistic. So I came away with something of a hazy overview, real clarity lacking.
As I have written, I expect the Tier 4 engine makers to have a really exciting show as each of them is fully loaded with their latest engines and ready to go toe-to-toe, more perhaps with the international than the North American market in mind.
The ratio of upgraded or expanded model lines to completely new models is one of those indicators and my impression is that the revamped are a significant number — but I am wary of this one because hurried (we all try to get to as many tables as possible in a day and a half) table visits alone really don't let you paint a big enough picture.
And of course, upgrades can be serious advances. In the end, we will have a very big show — pressure for space has been on for some time and the Bauma people say it still is on even now. My colleagues Marcia Gruver Doyle and Tom Jackson from our sister publication Equipment World will be here in April, and they will be our final judges on the 2013 Bauma in the overall scheme of things for this year.
– John Latta is the editor of Better Roads magazine