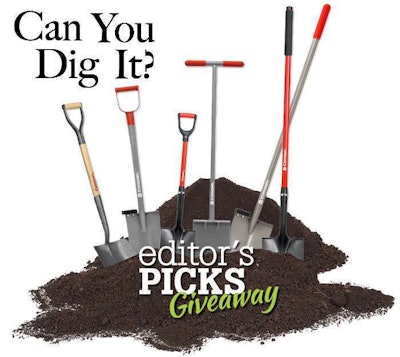 Our first Editor's Picks giveaway for an RZ Mask just wrapped up, and we are excited to announce our five landscaper winners:
Jim Dykzeul, Tulip Fields
Michael Gussoff, Primrose Landscape Design
Anthony Jackson, Exquisite Lawns LLC
Kenneth Rhodes, Phoenix Landscape Services
Keith Roberts, R&R Services
We love when we can share something with our readers, so thanks for everyone's interest in the contest. If you didn't win this time around, no worries. We just kicked off another giveaway for 14 Corona Tools' all-steel professional shovels. If you could use a new shovel in your lineup, visit our contest page and enter to win.
And these giveaways are just a preview of all of the web projects we have in the works. So, make sure to stay tuned for video hangouts, ways to share your work with more photo contests, Twitter chats with the pros and much more.
I hope you dig what we have coming up!