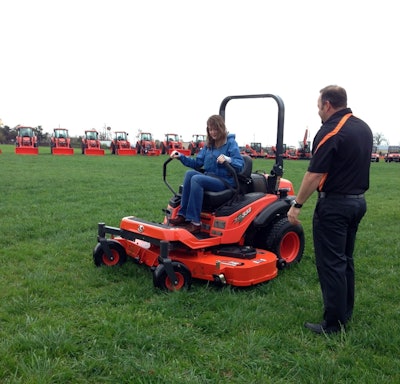 After a trip to Springdale, Arkansas, I got to witness first hand the new Kubota Kommander series.
Springdale, home to one of the largest Kubota dealers in the country, hosted our group for a couple of days allowing us to drive, ride and experience the Kommander series.
The zero-turn series comes in a variety of shapes, sizes, features and prices to fit in the residential and commercial market. I was able to switch from the Z100 series to the Z200 series, and with a few adjustments, I was able to operate both series with ease.
The mower turned out to be exactly as described by Christine Chapman, the turf product manager for Kubota. The ease of use, the features and the power behind each of the machines seemed to fit each targeted market.
Despite the cold, rainy weather, I was able to start the machines quickly, cut the grass effortlessly and get the job done. The line even features a propane-fueled mower for those wanting to "go green."
Kubota focuses on establishing and keeping personal relationships with customers, and this was evident as we waited for the rain to stop. Employees at the dealership offered a helping hand to customers and invited them to come to a large ride-and-drive event the dealership is hosting.
For all the facts, figures and statistics, read more about the series here.