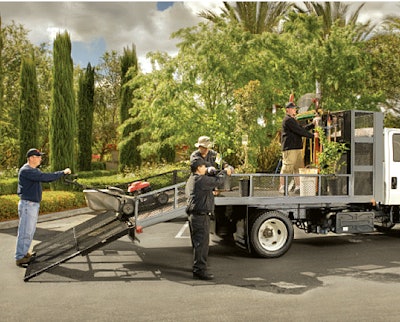 One landscaping materials company is facing a serious lawsuit after a St. Clair County, Illinois, woman claims the company overloaded her pickup truck with pavers.
The woman was riding as a passenger when the vehicle crashed and claims the company negligently loaded materials onto the trailer in a way that made it "unstable and unsafe to operate, overloaded the trailer and loaded more materials on the trailer than was ordered," according to The Madison-St. Clair Record.
Regardless of who is wrong or right in this situation, a lawsuit can mean trouble for any company.
As landscapers, it is a necessity to travel with equipment, trailers and materials. One misstep, and you could be in a similar situation like that company.
If materials are not properly placed and secured in a vehicle or trailer, they could fall out and cause an accident.
There's no worse feeling than traveling down the road and coming up on a landscaping vehicle full of equipment that is not properly strapped down.
Double check and triple check straps, hitches, chains, ropes, etc. before hitting the road.
It's human nature at the end of a long day to just "assume" everything is in place. We get tired, hot and light headed, but if we let exhaustion and laziness take over, that's when accidents happen.
Have multiple employees check equipment, and don't let the roads dictate how equipment should be secured in a vehicle.
Just because a road says 35 mph as opposed to 70 mph, it should not change how your equipment should be properly stored.
It takes half a second for a serious accident to take place, so take a few extra minutes to make sure your trailer is 100 percent before traveling.
Here is one example of an accident that might happen if equipment is not properly stored during transport.