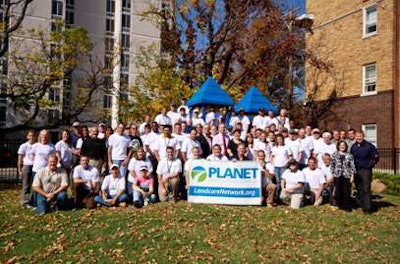 From the educational classes to the vast range of product specialists, it's easy to see what you can get out of attending GIE+EXPO. (For tips on getting the most from the show, read my other post.)
But, have you thought about what you could give back while you're in Louisville, Kentucky?
A group of 75 PLANET members are coming together Wednesday for PLANET's annual Give Back project. They will be enhancing the Home of the Innocents, a nonprofit shelter and pediatric convalescent center that provides services to those facing severe crisis.
These industry volunteers will do what they do best — beautify the grounds. They will plant trees, spruce up the playground and plant cold crops in raised vegetable beds.
GIE/GIC can be an extremely busy few days, so it's refreshing to see people finding ways to give of their time.
To see other service projects from landscapers, check out our photo gallery.