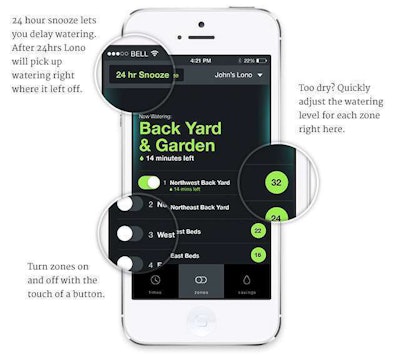 Featured on Kickstarter, a funding platform for creative projects, Lono is a sprinkler system that can be controlled from any mobile device.
Sprinklers can be turned on and off with a smartphone at anytime and at any location – even if clients are out of town.
The system also allows for a "snooze" setting, which delays the system for a day.
If dry spots appear in the lawn, Lono allows for zones to be adjusted and sends notifications and educational messages to help watering efficiency.
By telling the system when to water, it will determine the schedule for each zone depending on what it needs.
The system includes water-saving features like season adjustment, weather and temperature monitoring and automated scheduling.
Lono works with existing sprinkler systems, as well as new ones. The system works with Wi-Fi, Bluetooth, a battery backup, display, snooze button and slots for up to 20 zones.
After connecting the device to a standard outlet, the Lono will need to be wired to the zones on the client's current controller for the irrigation system.
After linking the Lono to a wireless network, users can operate the 20 different zones.
The system will eventually be sold for $199, but backers can invest in the device for $149 or less depending on the funding options.
The system currently has 608 backers and has exceeded its funding goal of $75,000.
Benchmark goal rewards include a LED readout on the device, an Android version of the mobile app, admin functions for contractors and a mobile version of the site.
Currently, the device will only ship with iOS support.
The creators of Lono have scheduled the shipment of the product to begin as early as March 2014.