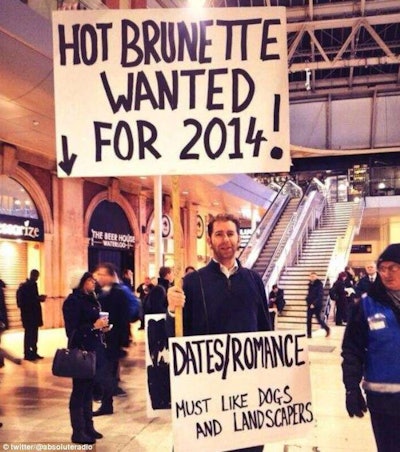 We've all heard of online dating, but what about poster dating?
A United Kingdom landscaper tried this approach by standing in central London and Kingston with a sign reading "Hot Brunettes Wanted for 2014," reports Your Local Guardian.
Gerald Abrahams, 39, says he wanted to do something different, since he's about to turn 40. I think he definitely achieved different.
In addition to having dark hair, he also asks that potential girlfriends like dogs and landscapers.
His sign gesture has brought in hundreds of emails and two dates so far, so hopefully this brunette-loving landscaper will find his match soon.
I know balancing your work and personal life can be difficult, but I'm not sure I would turn to holding a sign for a date.
What do you think: Clever or crazy?