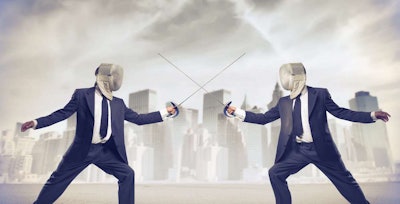 A little competition can be good for business: Rivalries keep you on your toes and push you to continually be better.
But how can you move pass just wanting to beat your fellow landscapers and actually grow your business? It comes down to respecting other successful landscapers and figuring out what they are doing right.
That's true in any industry. Last week, I went to the annual Turf & Ornamental Communicators Association meeting in New Orleans. It's one of the few events where green-industry competitors come together to learn from each other. We share ideas, what works, tips, ways to get better and struggles.
At first, it can be a little uncomfortable talking to someone you compete with on a daily basis. But, they are one of the few people who understand exactly what you go through. So, pay attention to what they are doing right and wrong — and then see how that information could help your business.
I'm not saying you should take their ideas or try to copy their business model, but there's no reason to reinvent the wheel.
If talking with landscapers in your city is too difficult, find national or regional associations and organizations where you can network with other landscapers. One great option is TLC's Landscaper of the Year group, which brings the top landscapers from across the country together. (You can enter to be in this year's program until July 31.)
So, stop simply trying to one-up your competitor and learn from them.