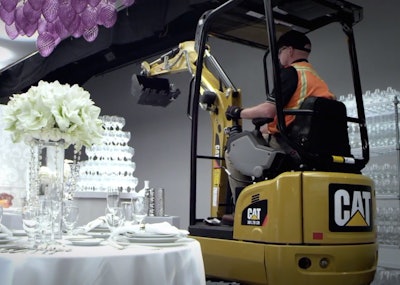 While Caterpillar hit viral video status with a video focusing on a massive game of Jenga, its latest Built For It Trials video centers on one of the most impressive displays of operator skill we've seen.
In it, Ryan Neal, a senior demonstrator instructor at Cat, hops into a 301.7 CR compact excavator and drives into the extremely tight confines of China shop Cat built for the video.
Designed to put the machine's agility and the precision of its controls to the test, Cat made the shop's aisles a bit smaller than they would be in most stores and then filled it with $40,000 worth of valuable glassware — much of it on loan.
For what it's worth, Caterpillar was confident enough in the machine and Neal's skill to film the challenge in a real China shop, but the two it approached turned them down.
The aisles only give Neal about a 1/2-inch of room on either side of the machine, and there are several close calls as Neal carefully moves the machine and bucket through the delicate space, setting up for an extremely precise maneuver at the end: finishing a pyramid of champagne glasses by placing the final glass on top using the excavator's bucket.
Don't miss the video below.
[youtube K3sdMEgor7E nolink]
Editor's Note: Wayne Grayson is the Online Editor for sister site Equipment World.