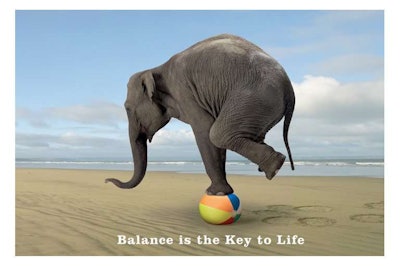 If you ask people what they want, many will say they would like to have a better work/life balance. But what do they really mean?
No one wants to work more, so what they are really saying is that they want more time for their "life."
So, how can you have more personal time but still get your work done? Here are ways to improve your quality of life.
1. Turn off email alerts. I have four email addresses, and every time I get an email — no matter what time it is — my phone beeps. It didn't take long for me to dread the sound of that beep. Not only was it annoying and taking away from my free time, it also distracted me when I was working. I would turn away from what I was working on to see what the email was. That wasn't helping me at all.
So, I finally decided to turn off the alerts — and guess what? I'm still alive a month later. It actually was a huge relief to not hear that sound anymore, and I didn't fall behind with messages like I feared. Instead of checking everything immediately, I'll pick a time every so often to go through my messages. Technology should make your life better: not more stressful.
2. Tackle tough tasks in the morning. Studies have shown you are more productive in the mornings, so work on the most important things at the start of the day. If you have meetings or secondary projects, focus on them later in the day.
3. Take some personal time. You might not be able to go out of the country for a few weeks, but it's important to have some free time where you can clear your mind. Start by taking small breaks throughout the day, and step away from your work. Not only will you feel more refreshed, you'll also think clearer when you get back to your task. Also, if you hire people you trust, you should feel good about leaving them in charge if you do actually get away for a few days.
For more tips on how to work harder, not smarter, check out Breaking Ground in the July issue of TLC.